Pink bicycle pannier bag for women
Normal price
Selling price
$163.00 USD
Basic price
Per
Sale
Sold out
Our waterproof bike bag for the rear rack is a true miracle of storage space! The sustainable pannier bag for your bicycle has an environmentally friendly, non-toxic inner coating. With a volume of 25 liters there is space for everything you need.
Bicycle pannier bag for women
This bike bag for women is uniquely pink and not only a real eye-catcher but also a functional companion for long bike tours.

With a volume of 25 liters there is space for everything you need for everyday life or work. By using sustainable, high-quality and waterproof fabrics, you can ride through the rain without your essentials getting wet.
The timeless design of the
Ladies bicycle pannier bag definitely fits you and your e-bike, gravel bike or mountainbike. It is also available in the colors blue and green.
Bomence landing
The perfect Bicycle bag for ladies - For leisure and work:
Material free of PVC and latex and other harmful plasticizers.

Absolutely "rainproof" by 100% waterproof materials.

Coating in the interior of food-safe TPU material (certified according to German food law)

Including shoulder strap, perfect as a shoulder bag for shopping.

Perfect for work, leisure or outdoor experience.

Everything finds his place here: enormous volume of 25l with rolltop.

Safe stand on every surface, with particularly sturdy design.
You are looking for a chic bicycle bag for women, in which everything fits for your profession or your next adventure?
Our elegant pink bike bag is perfect for urban - bikers and outdoor lovers. Finally a sustainable, stylish and functional bike bag for women! Adjust the storage volume yourself and take your 19 inch laptop with you, for example. Quickly dismantled, you can simply take the whole women's bike bag with you to the office.
As a pannier bag for women for your e-bike or for your next adventure through the forest, with this pink bike bag as your companion you can concentrate on driving.
Sustainable and shopping with consciousness.
Our bike bag is made from food-safe materials and you can use it for shopping. The inner coating made of waterproof TPU is certified according to the German Food Code (LFGB). The women's pannier bag has no odor and is sustainable. Harmful plasticizers have been avoided 100% so that you can use the women's bike bag without hesitation.
Get off to a flying start now and take everything you need with you at work or on your bike tour. At the same time, you can be sure that your belongings are always well protected.
Order your PINK Bomence Bicycle Bag now and enjoy your upcoming journeys on your bicycle.
100% customer satisfaction!
We are a German company with sustainable production in China. The quality of our products is important to us. If you are not satisfied with the product or if something breaks, we offer you to return the product within 30 days and you will receive a refund.
Also makes a great gift for a loved one! If you're looking for a gift idea, then you've come to the right place. Because whether as a birthday present or as a Christmas present, with this you make a special person very happy.
Have fun cycling and of course shopping!
Shipping of bicycle bags within Germany is free.
When buying outside the EU, customs costs or import sales tax may apply to the buyer. The goods are shipped from Germany.
Show full details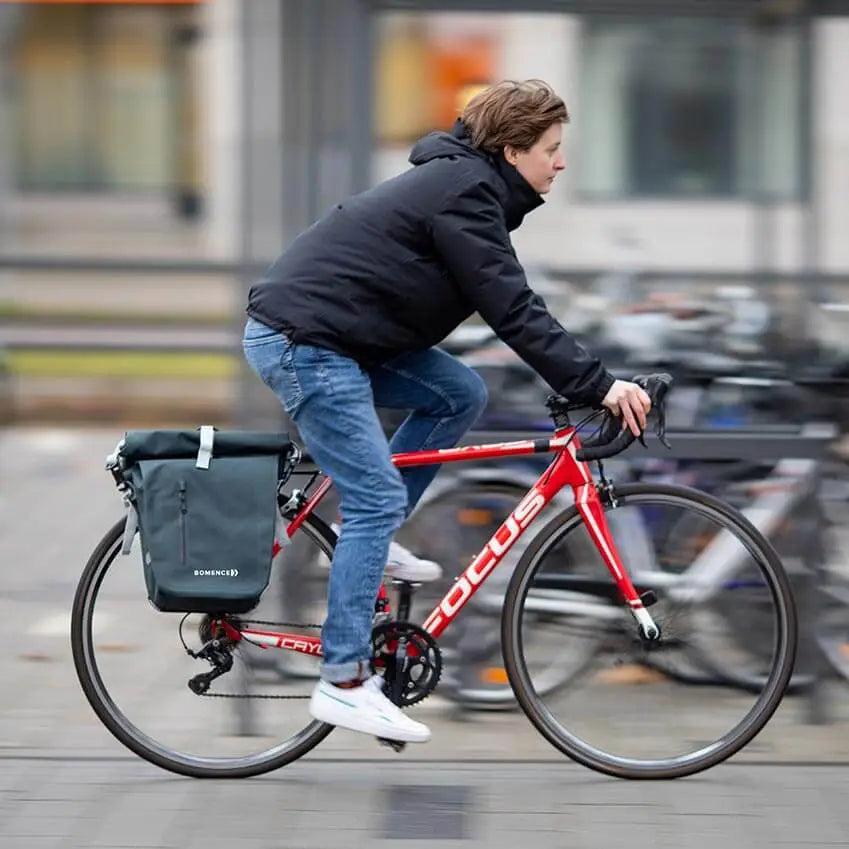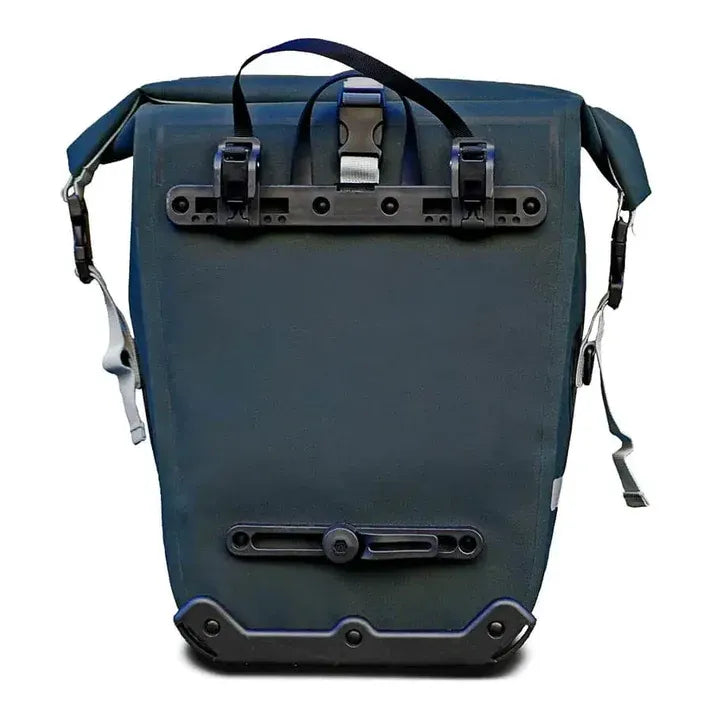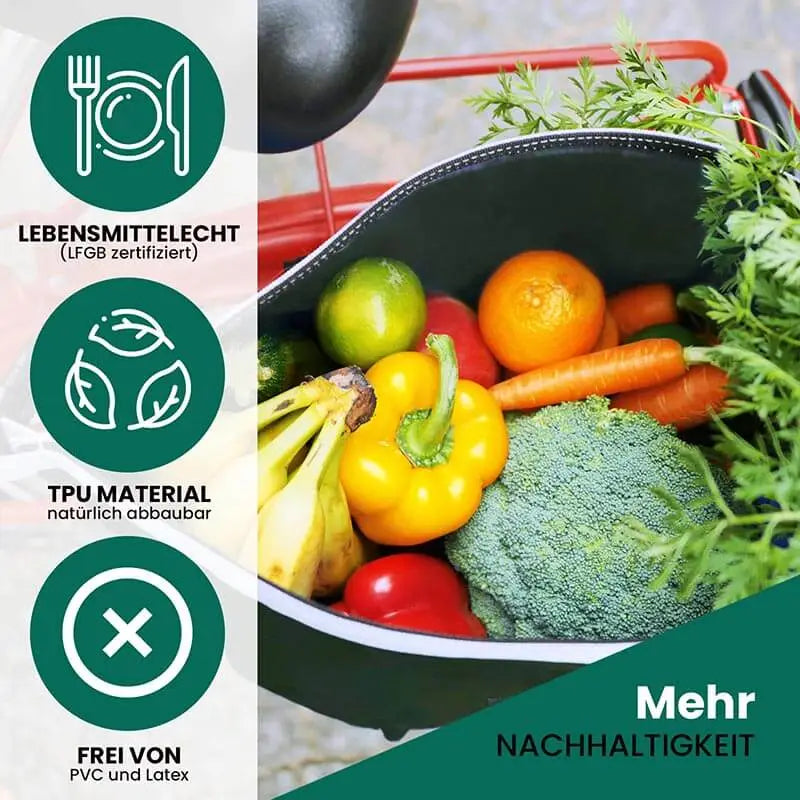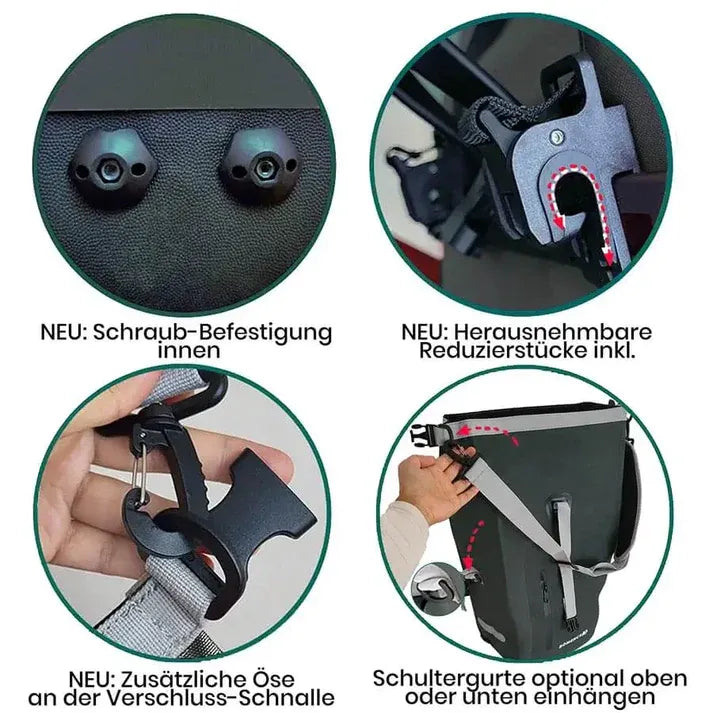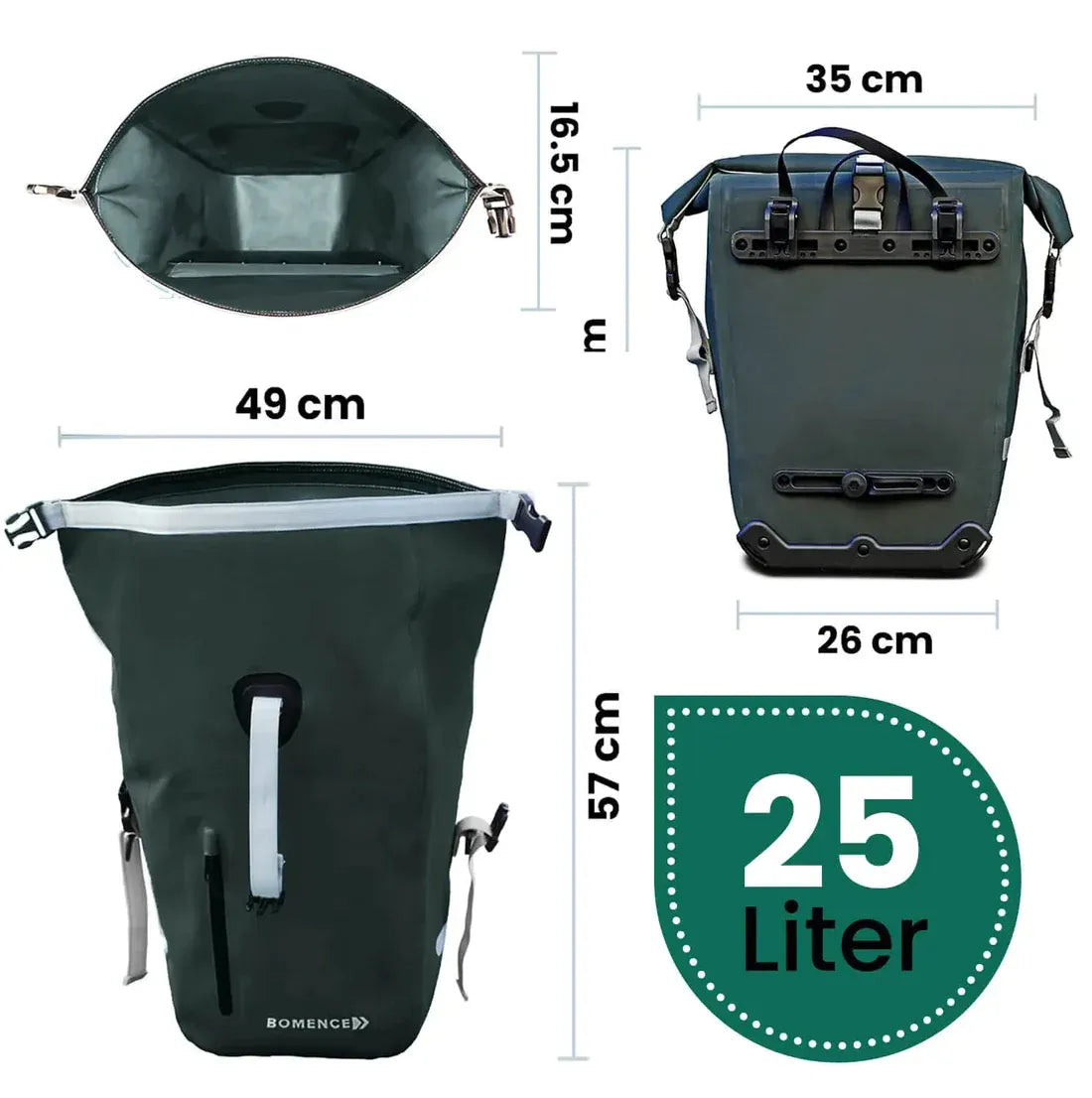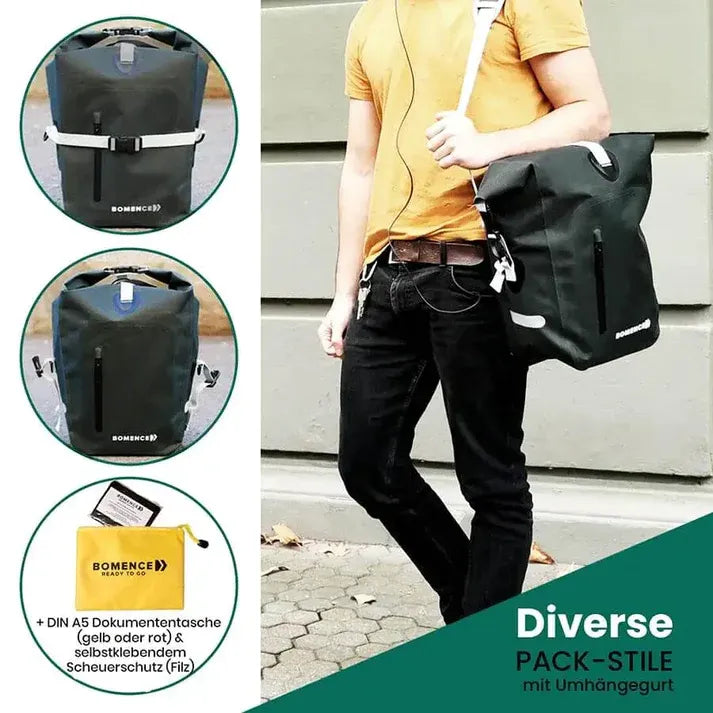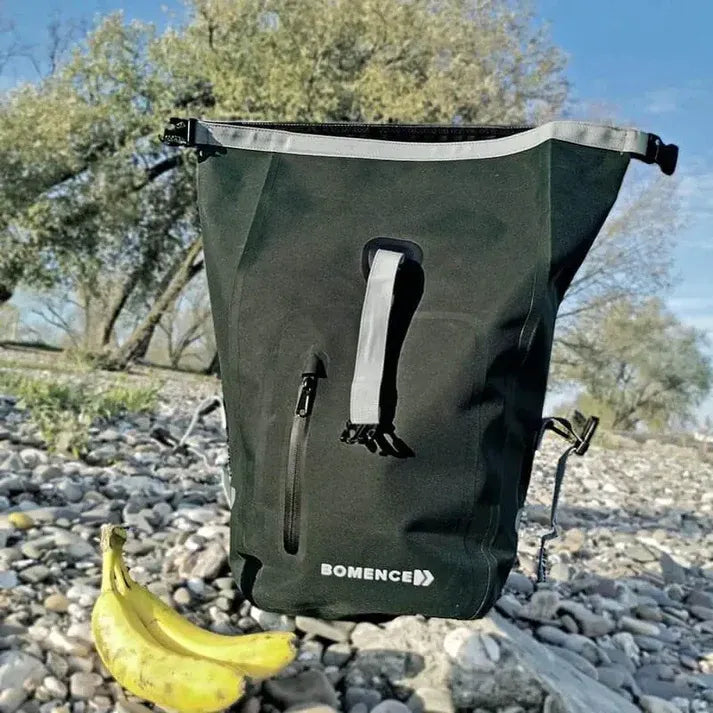 Kostenlose Lieferung

100% Premium Qualität

30 Tage Rückgaberecht

Sichere Zahlung
Über die grüne Fahrradtasche "Individualist23"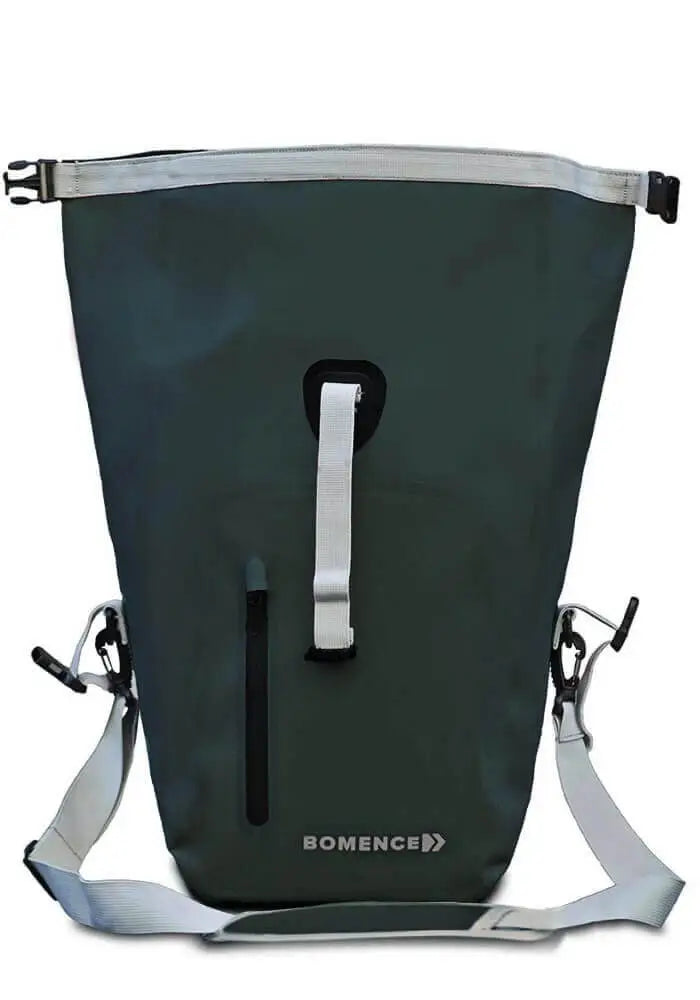 Stauraumwunder
Mit 25 L Packvolumen eignet sich die Tasche für den urbanen Alltag und lange Radreisen. Der Rolltop ermöglicht eine Kapazitätserweiterung um 5 L.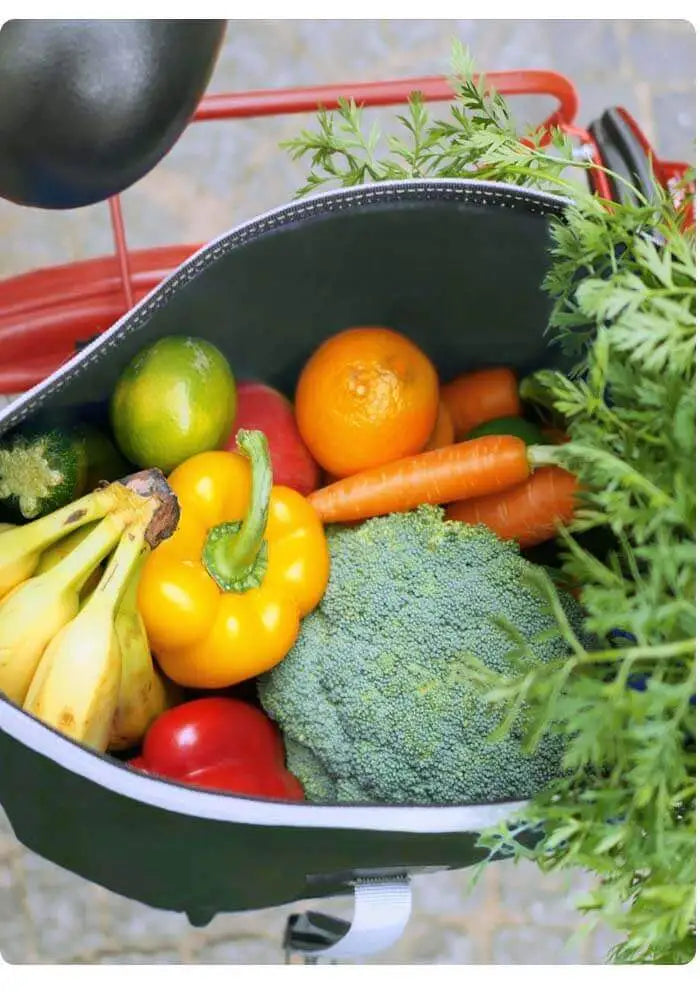 Schadstofffrei
Die TPU-Innenbeschichtung ist lebensmittelecht. Es werden auf schädliche Weichmacher wie PVC, PFC und Latex verzichtet.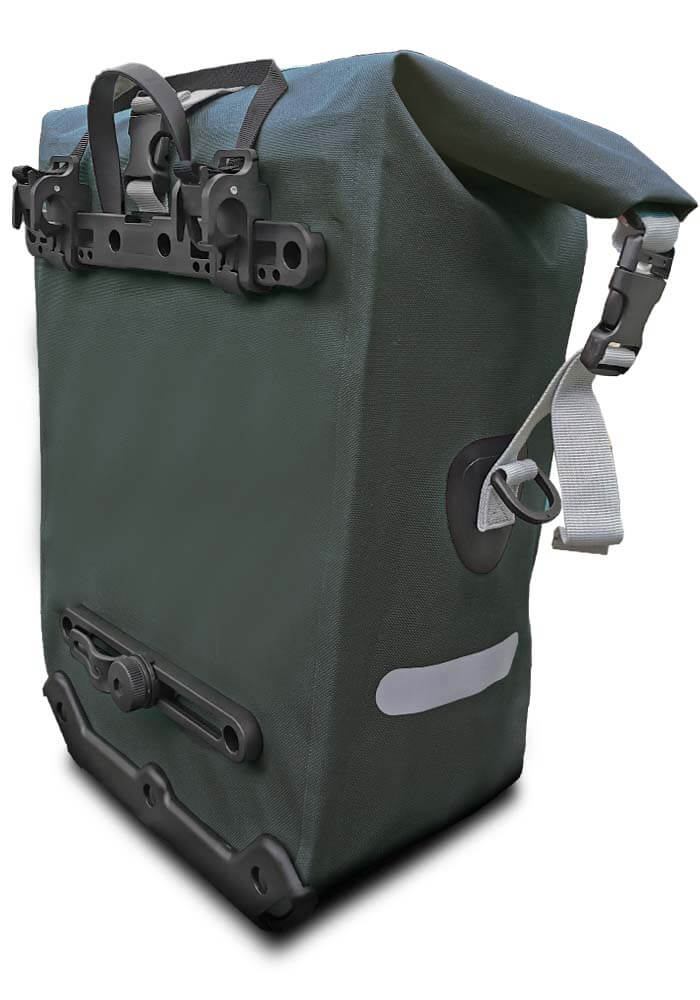 Sicherer Halt
Das Quick-Lock Befestigungssystem umschließt das Gepäckträgerrohr (bis zu 18 mm) fest. Die Tasche steht von alleine.
Video zur Funktionalität ansehen
Details zur Fahrradtasche
Maße der Fahrradtasche
Geschlossen: 42x35x16,5 cm - Offen: 57x35x16,5cm - Untere Breite: 26cm - Außentasche: 29x19cm
Das Befestigungssystem
Der Abstand der Fahrradeinhängung ist waagerecht verstellbar. Die Fahrradtasche kommt mit Reduzierstücken und kann insgesamt Gepäckträgerrohre bis zu 18mm (ohne Reduzierstücke) umfassen.
Statt Nieten werden bei der pinken Fahrradtasche Schrauben zur Sicherung der Halterungen innen genutzt.
Der Rolltop Verschluss kann sowohl oben als auch seitlich mit Schnallen verschlossen werden.
Zusätzlich werden Schultergurte mitgeliefert, die entweder an den seitlichen Gurten mittig oder oben an der Öffnung eingehängt werden können.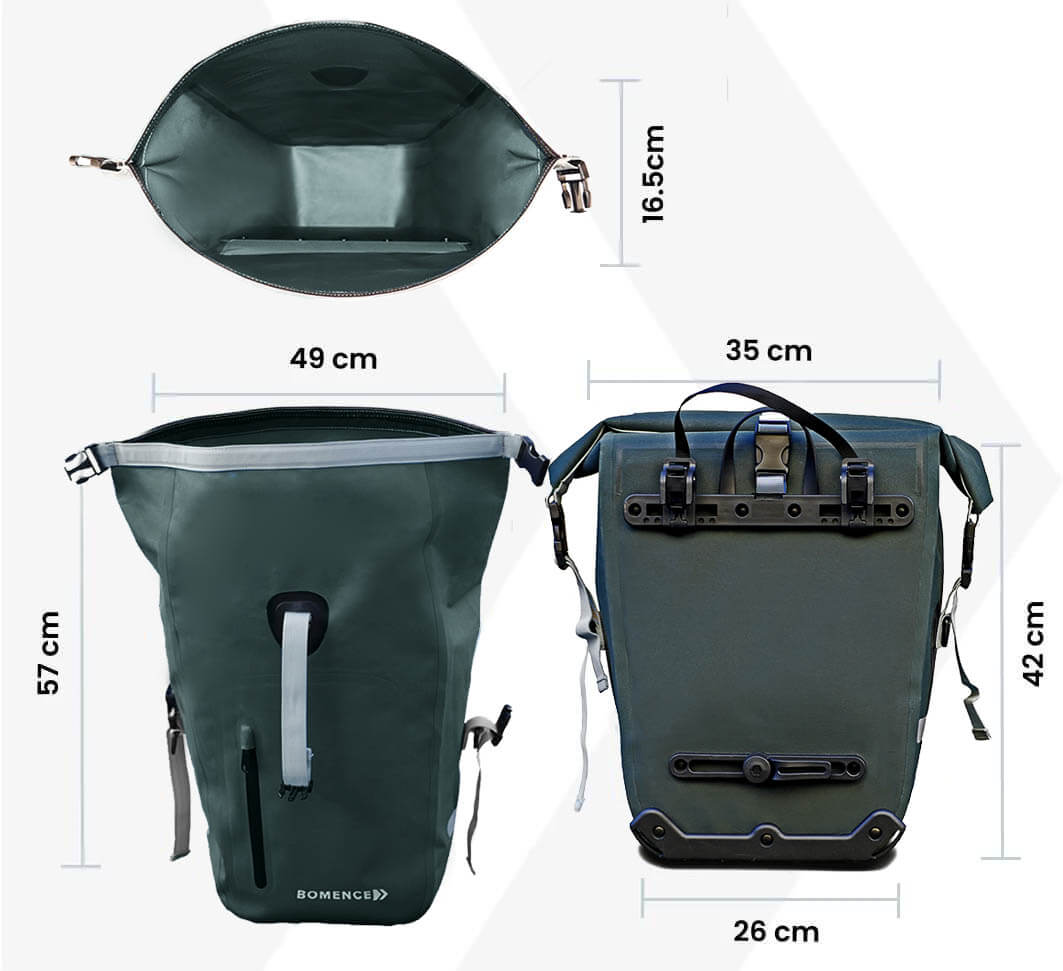 Wer steht hinter Bomence?
Die Designerin, Unternehmerin und dreifache Mutter Suyina Solonggod in Köln kreierte Bomence mit einer großen Lust an der Entdeckung neuer Wege zum Glück. Sie legt viel Wert auf Bewegung und strahlt vor Lebensfreude.
Fahrradfahren ist ihre erste Wahl, um sich in der Stadt fort zu bewegen.​ Mit stylischen und nachhaltigen Taschen bereitet sie und ihr Team Radfahrern mehr Freude und Leichtigkeit für ihre Wege!
Die selbe Fahrradtasche in pink begleitete sie auf eine dreiwöchige Fahrradtour durch Holland und Belgien.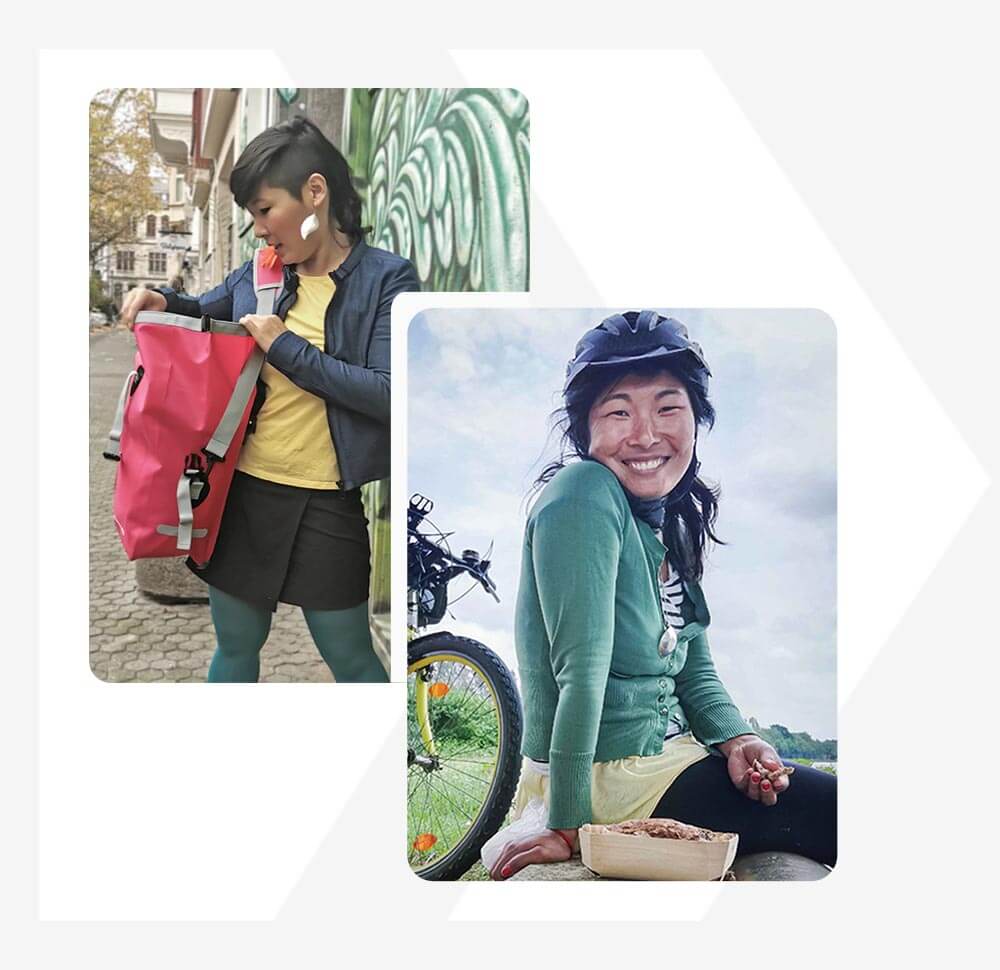 Begeisterte Kundenstimmen