Green bicycle bag waterproof - Individualist
Normal price
Selling price
$87.00 USD
Basic price
Per
Sale
Sold out
Our waterproof bike bag for the rear rack is a true miracle of storage space! The sustainable pannier bag for your bicycle has an environmentally friendly, non-toxic inner coating. With a volume of 25 liters there is space for everything you need.
Green bicycle bag waterproof
With this rustic green saddlebag you will meet the vintage industrial look. The crease character of the bag gives you memories of beautiful moments of freedom. As an ingenious companion, she provides more flexibility. With the Quick-Lock, the biking bag is mounted with a handle.

All Bomence Bicycle Bags are coated with food-safe TPU and 100% waterproof.
Bomence Individualist (green):
Material free of PVC and latex and other harmful plasticizers.

Absolutely "rainproof" by 100% waterproof materials.

Coating in the interior of food-safe TPU material (certified according to German food law)

Including shoulder strap, perfect as a carrier bag for shopping.

Perfect for work, leisure or outdoor experience.

Everything finds his place here: enormous volume of 25l with rolltop.

Safe stand on every surface, with particularly stable design
This bicycle bag is green as well as in blue and pink available.
Sustainable and shopping with pure conscience.
Our bicycle bag was made from food-free materials and can be used for shopping. The inner coating made of waterproof TPU is according to German food code (LFGB) certified. The waterproof luggage carrier bag has no smell and is sustainable.In harmful plasticizers was 100% waived so that you can use the bicycle bag waterproof without concerns for the luggage rack.
Start full now and take everything you need at work or on your bike ride. At the same time, have the certainty that your stuff is always well protected.
So you attend lightness for your upcoming ways!
Order your Bomence Bicycle Bag now and enjoy your coming ways to work.
(Picture of Sarah: This is Liverpool Blog)
With us 100% customer satisfaction is meant seriously!Bomence is a German brand with sustainable production in China. We are the quality of the product at heart. If you have to be dissatisfied with the product or something broken, we offer to give the product back within 30 days and you will receive the money reimbursed.
Also as a great gift for the girlfriend or friend! If you are looking for a gift idea, then you are exactly right here. Because whether as a birthday present or as a Christmas gift, which allows you to do your friends joy Give for your upcoming ways!
The green and pink waterproof bicycle bag can Carrier with a diameter of 18mm cover. The green bicycle bag fits on Narrow luggage rack with a diameter of up to 13mm.
Have fun cycling and of course shopping!
The shipping of bicycle bags within Germany is free.
When buying outside the EU, customs costs or import sales tax may apply to the buyer. The goods are shipped from Germany.
Show full details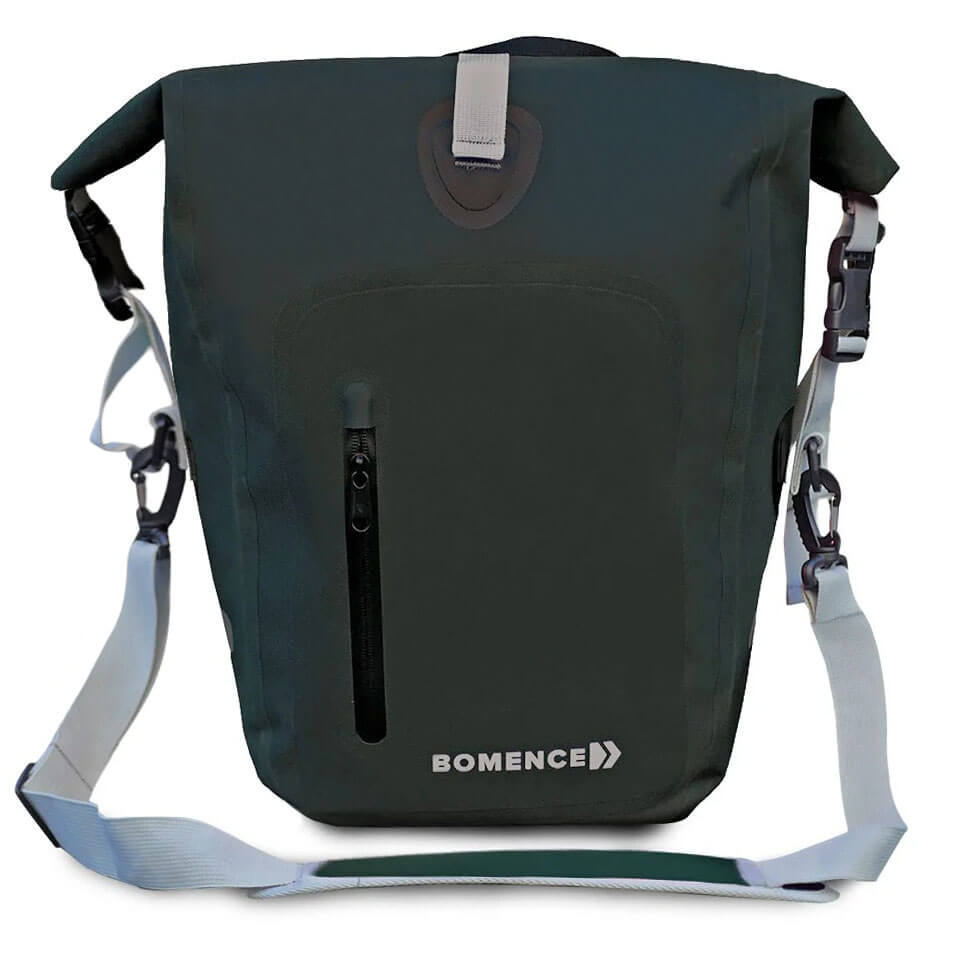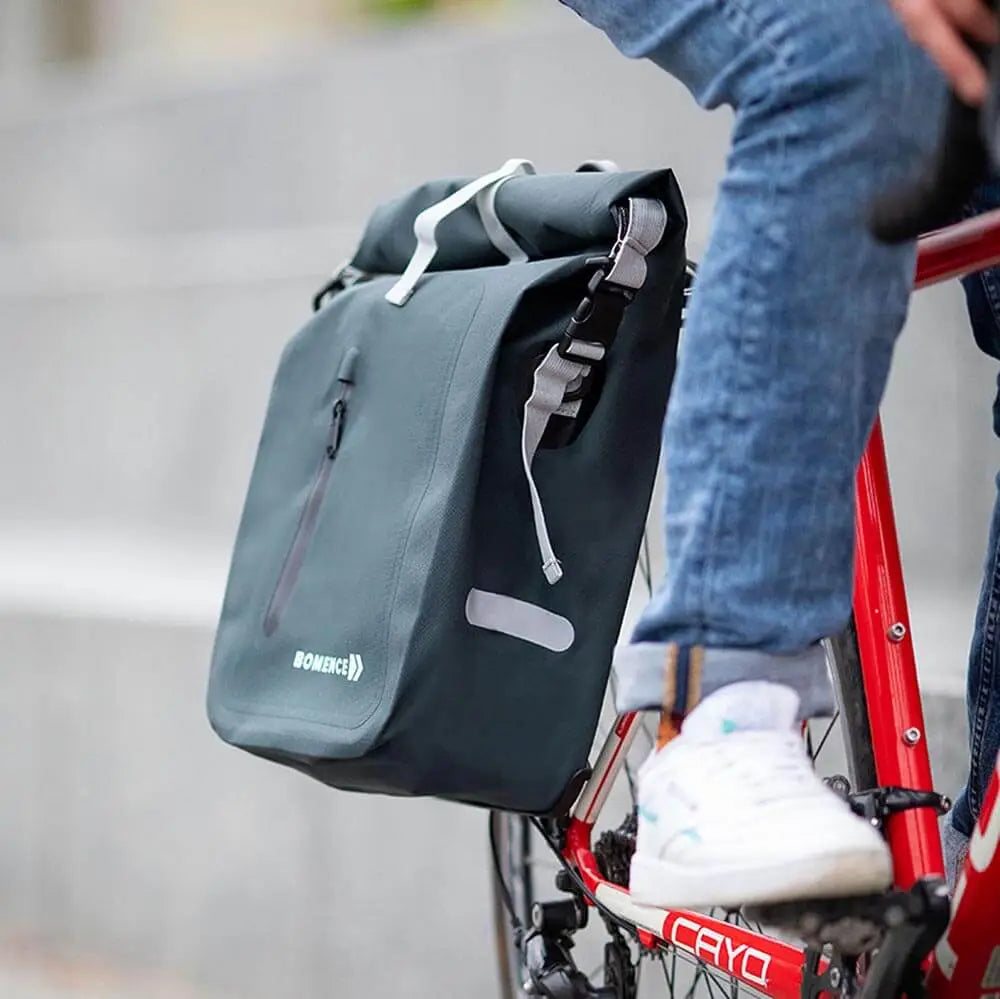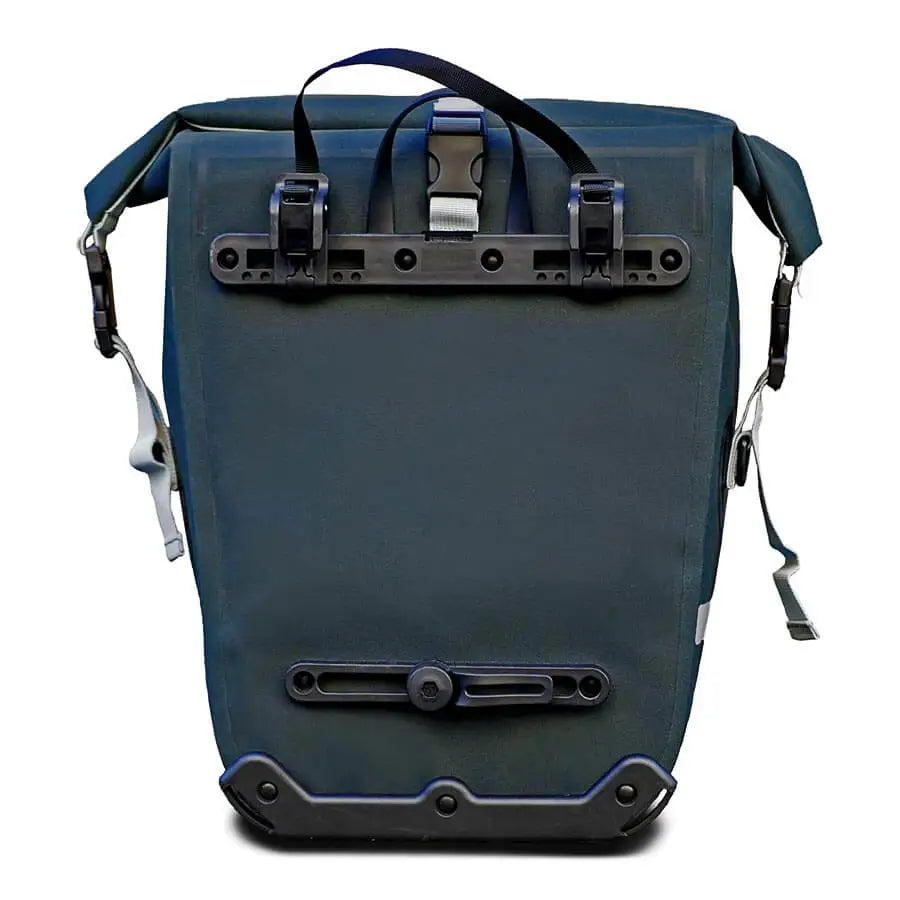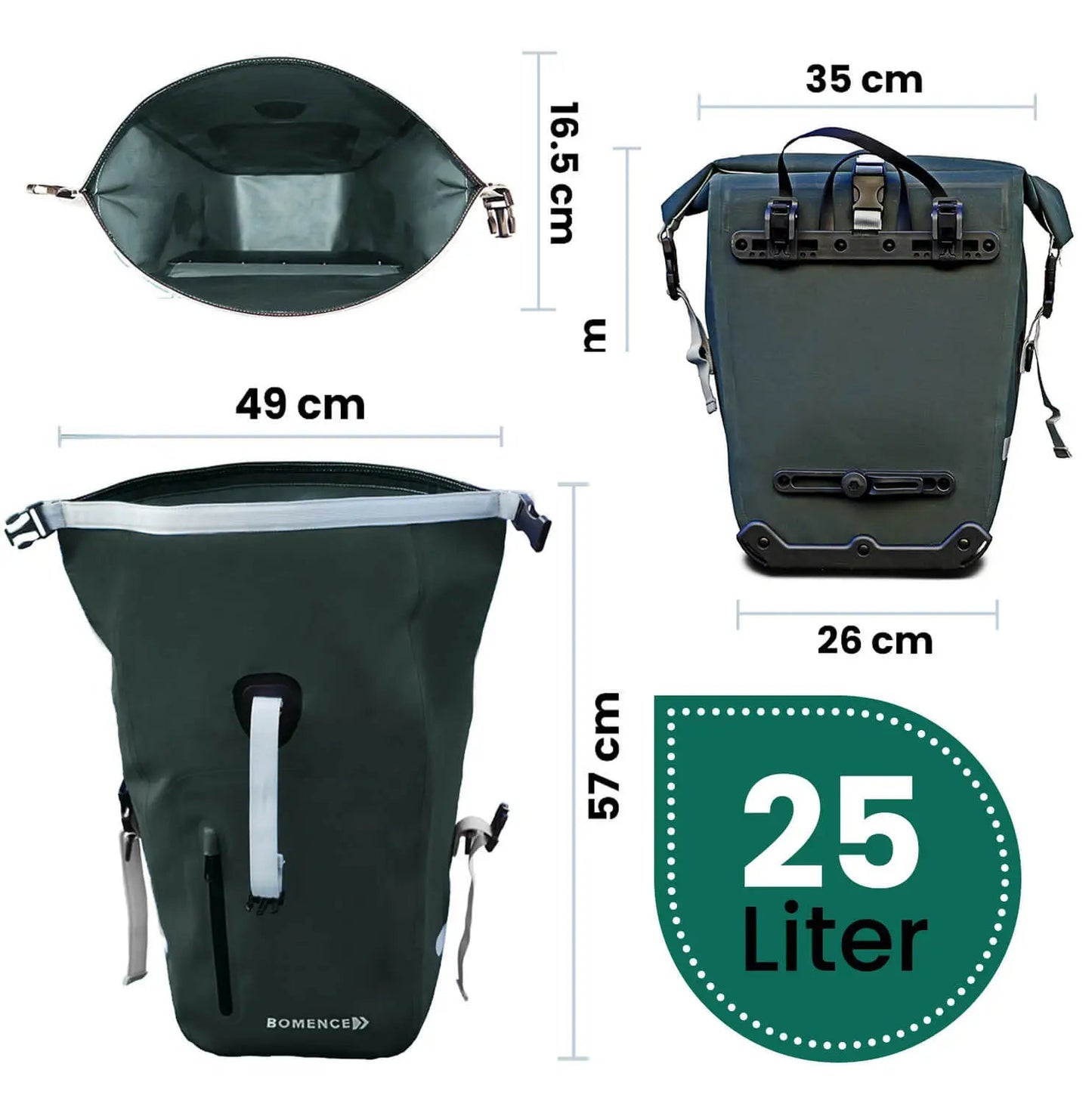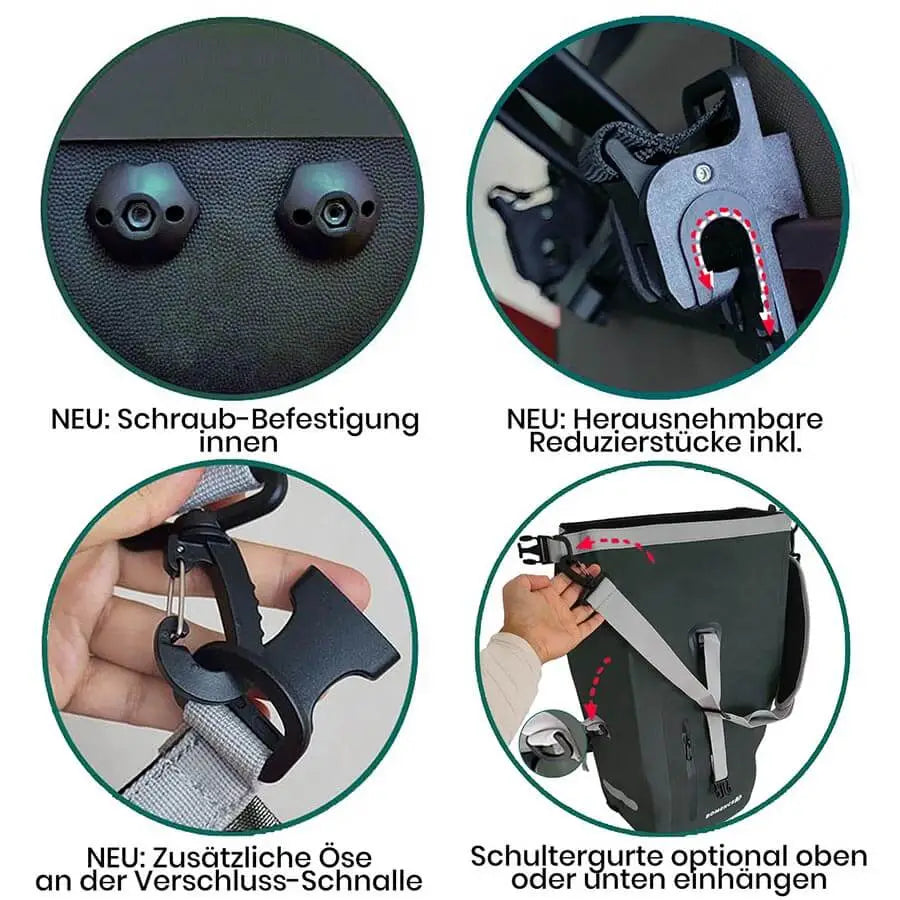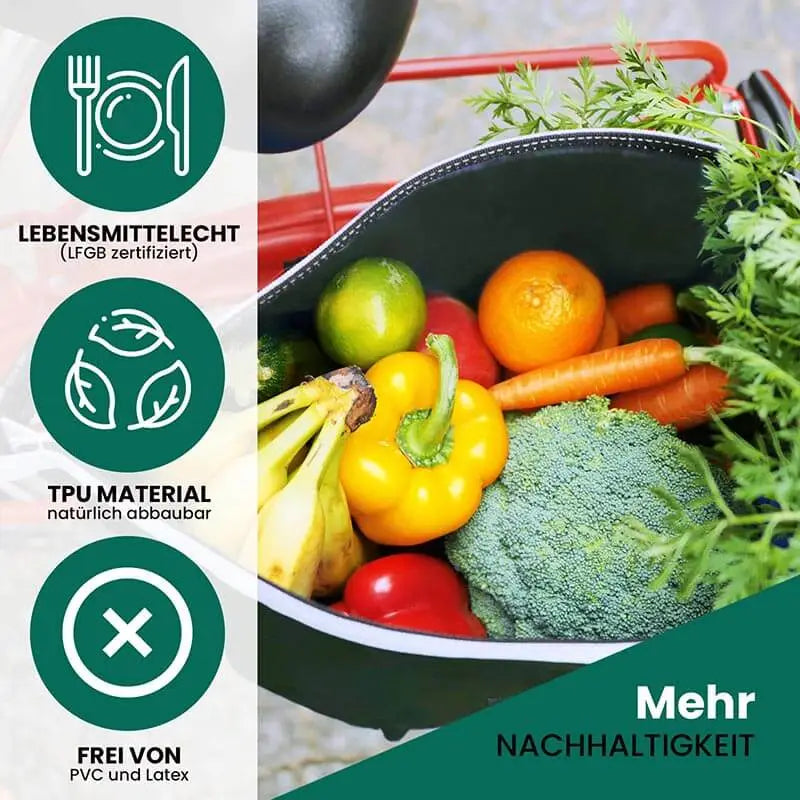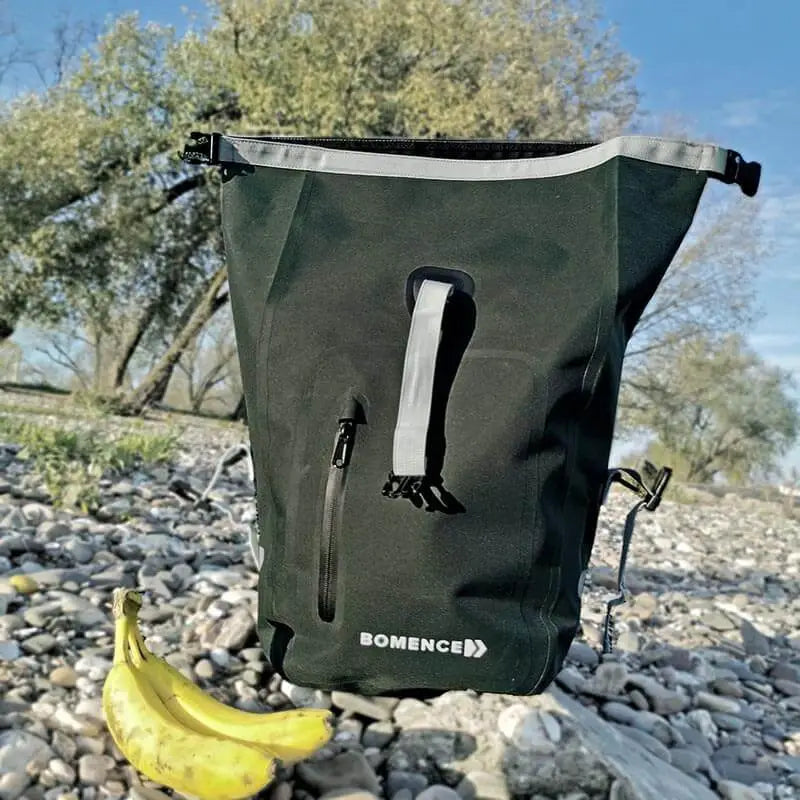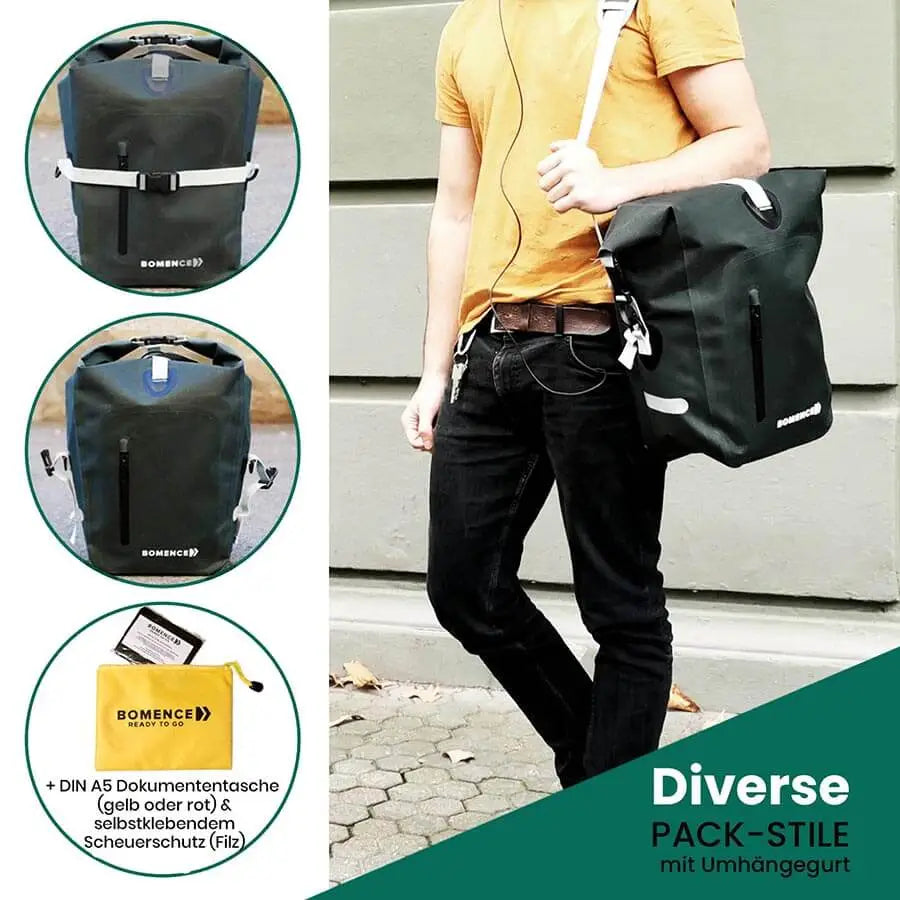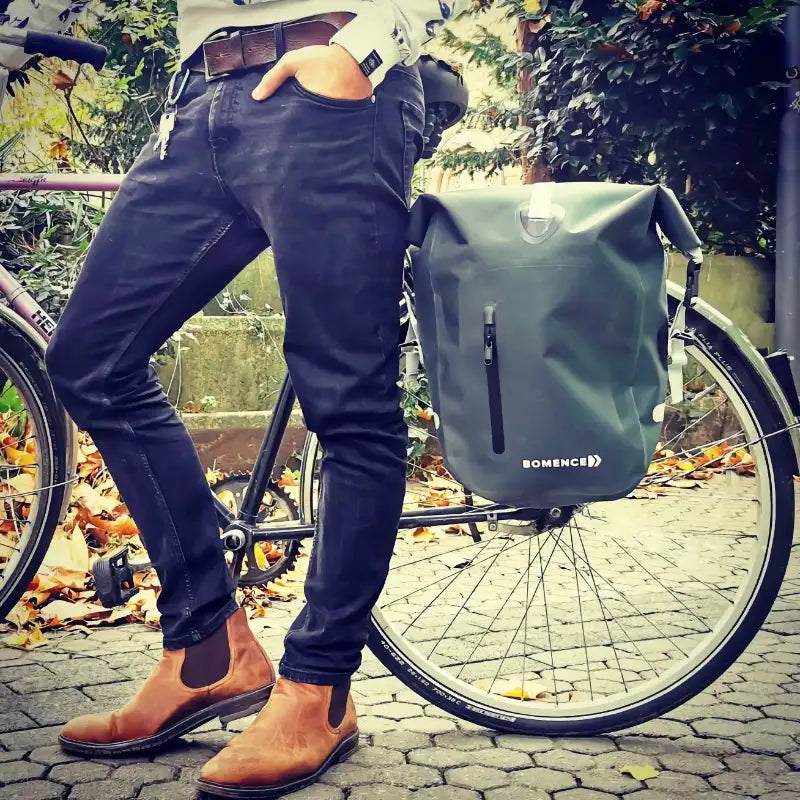 Free Shipping

100% Premium Quality

30 days return policy

Secure payment
Über die dunkelgrüne Fahrradtasche "Individualist23"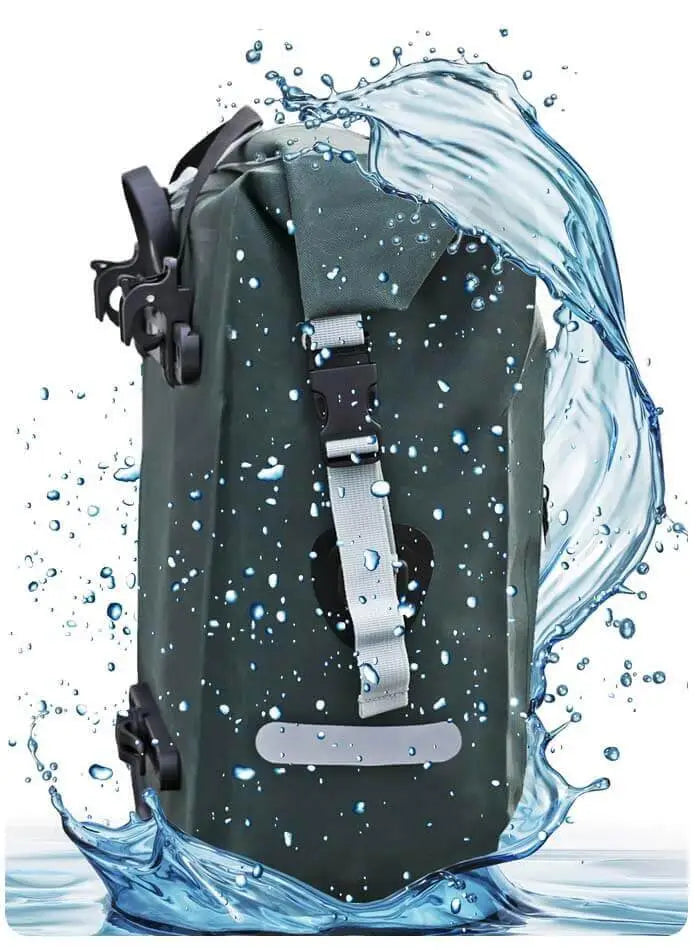 100% waterproof
Das solide Material mit TPU Innenbeschichtung schützt alle Wertsachen 100% vor Feuchtigkeit.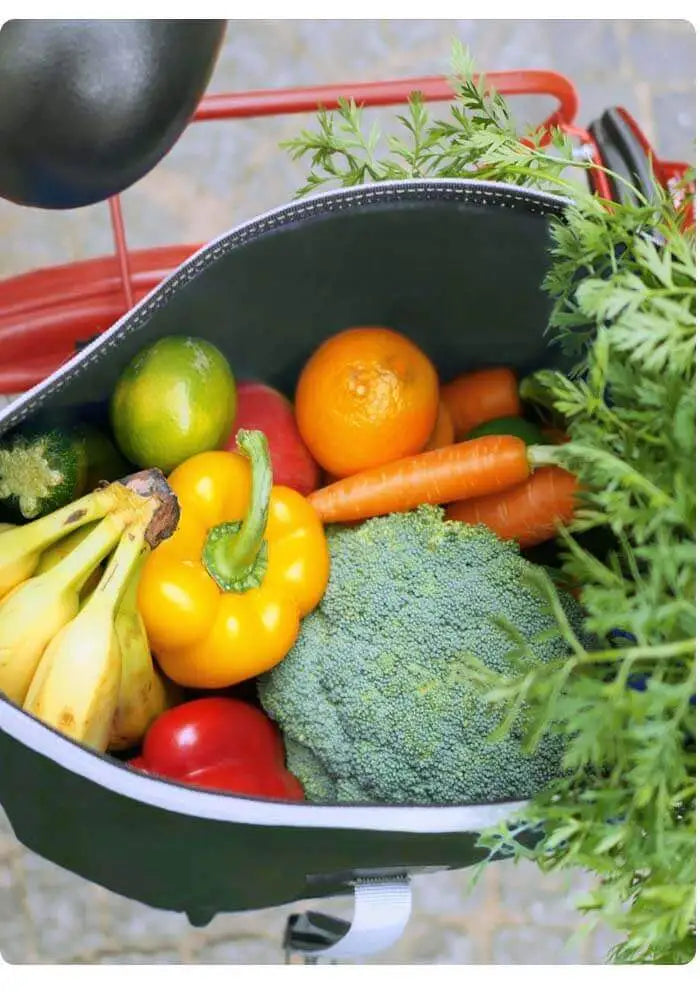 Schadstofffrei
Die TPU-Innenbeschichtung ist lebensmittelecht. Es werden auf schädliche Weichmacher wie PVC, PFC und Latex verzichtet.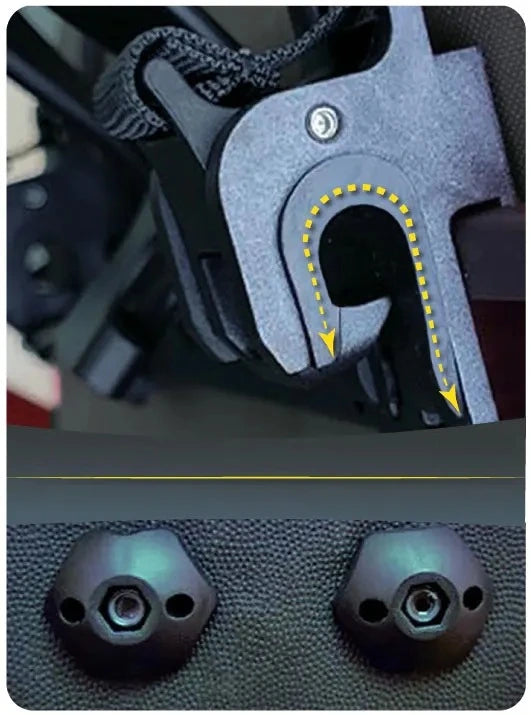 Sicherer Halt
Für Gepäckträgerrohre bis zu 16 mm. Die Schraubsicherung innen sorgt für längere Haltbarkeit.
Video zur Funktionalität ansehen
Die beste Fahrradtasche für den Gepäckträger
Unter vielen Fahrradtaschen für Gepäckträger hat diese Fahrradtasche überzeugt. Lese hier den Testbericht (mit der Schwester-Fahrradtasche in pink) vom namhaften Radfahren-Magazin.
Egal ob für den Alltag oder eine Solo Radtour, als Individualist23 ist diese wassserdichte Gepäckträgertasche immer für dich da und begleitet dich auf all deinen außergewöhnlichen Wegen.
So darfst du dich sicher und entspannt fühlen. Denn ein Individualist trifft ständig neue Entscheidungen und weiß, dass sein Wege die Richtigen für ihn sind.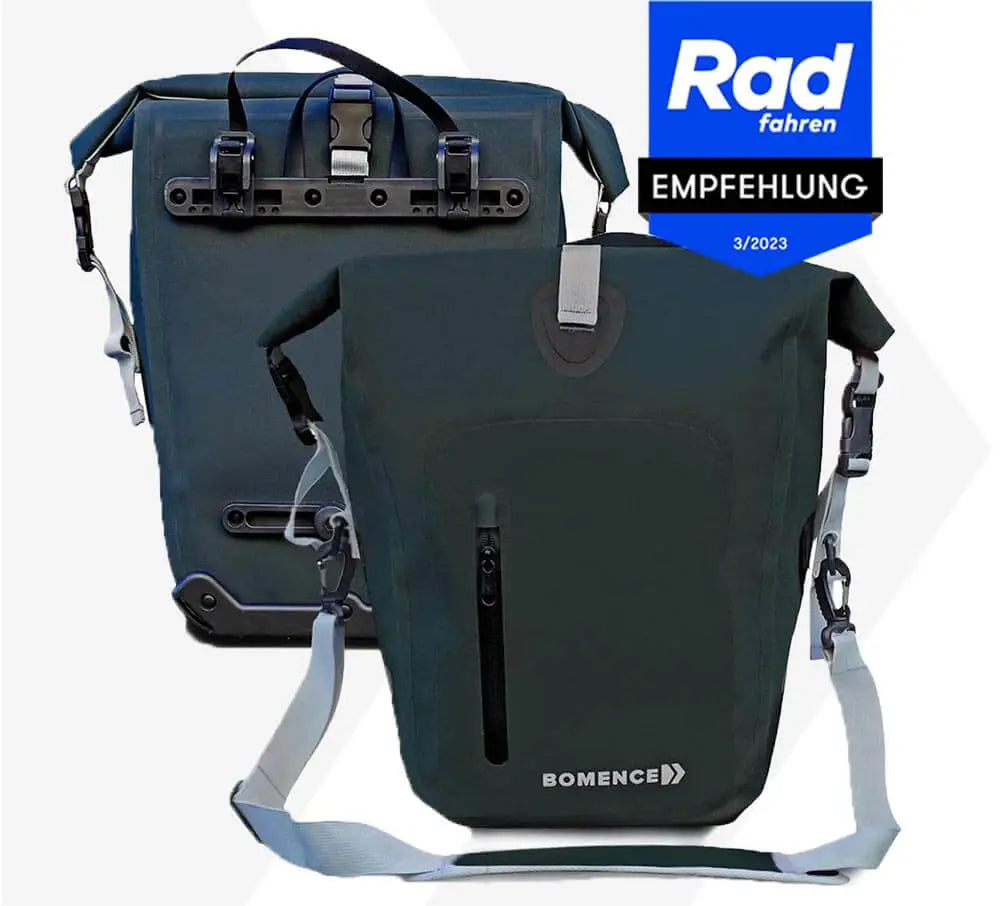 Nachhaltig und schön Fahrradfahren
Endlich nachhaltig einkaufen! Unsere Fahrradtaschen für Gepäckträger wurde aus lebensmittelechten Materialien hergestellt und nach dem deutschen Lebensmittelgesetzbuch (LFGB) zertifiziert. Das bedeutet, dass du geruchsneutral und frei von Weichmachern bedenkenlos dein frisches Obst und Gemüse transportieren kannst. 
Mache einen Unterschied beim Thema Nachhaltigkeit und kaufe ab heute mit dem Fahrrad ein!
Nutze dabei unsere stilvollen, umweltfreundlichen & wasserdichten Fahrrad Gepäckträgertaschen.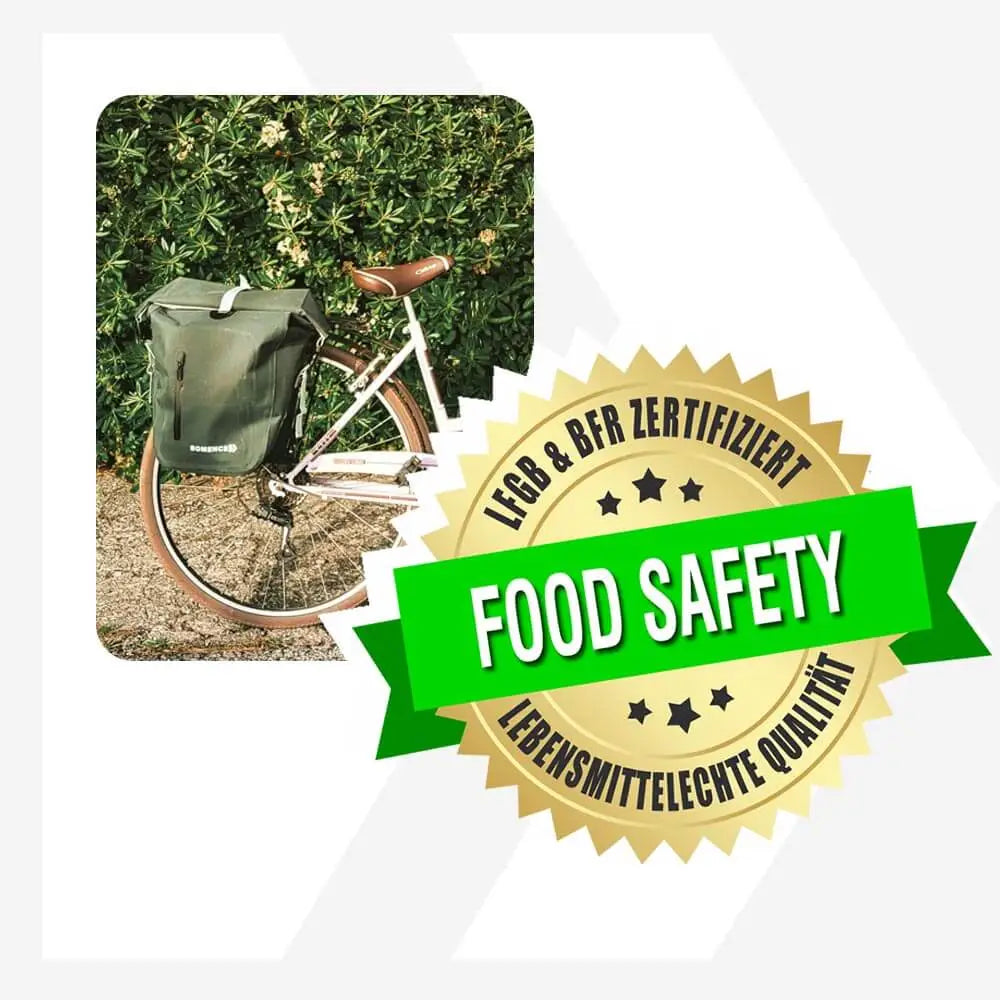 Details der Fahrradtasche - NEUE EDITION "Individualist23"
Maße der Fahrradtasche
Geschlossen: 42x35x16,5 cm; Offen: 57x35x16,5cm
Untere Breite: 26cm
Außentasche: 29x19cm
Gewicht 990g
Das Befestigungssystem
Der Abstand der Fahrradeinhängung ist waagerecht verstellbar. Die Fahrradtasche kommt mit Reduzierstücken und kann insgesamt Gepäckträgerrohre bis zu 16mm (ohne Reduzierstücke) umfassen.
Statt Nieten werden bei der pinken Fahrradtasche Schrauben zur Sicherung der Halterungen innen genutzt.
Der Rolltop Verschluss kann sowohl oben als auch seitlich mit Schnallen verschlossen werden.
Zusätzlich werden Schultergurte mitgeliefert, die entweder an den seitlichen Gurten mittig oder oben an der Öffnung eingehängt werden können.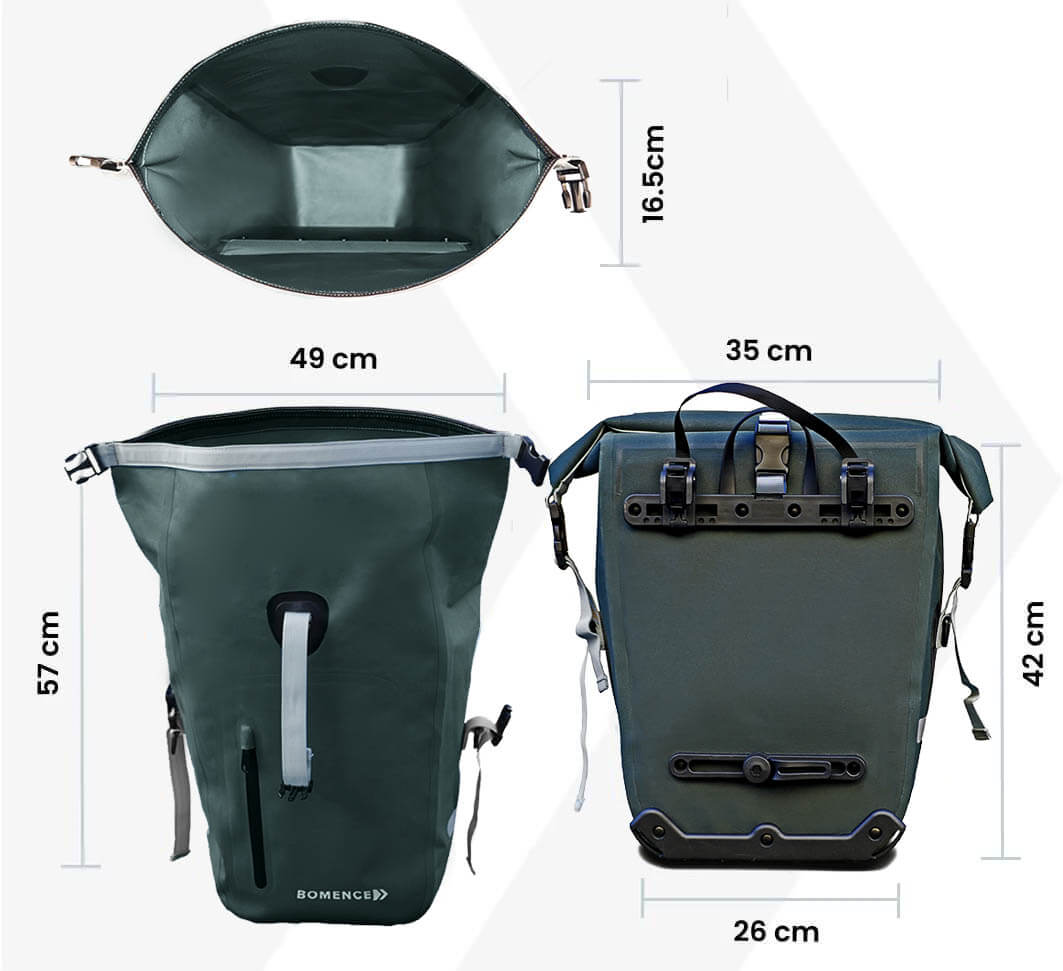 Support a pioneering start-up with passion
Who is behind Bomence? In 2019, Suyina Solonggod founded the Cologne-based company Health and Outdoor Equipment with sustainable production in China.

The entrepreneur and mother of three in Cologne created Bomence with a great desire to discover aha moments and thus new ways to Happiness. She attaches great importance to exercise and radiates joie de vivre. Cycling with and without children is her first choice for getting around town. With bright colors and reflective panniers, she makes a statement for cyclists to be more visible in traffic.

This is how we create a more considerate, healthier and more sustainable society together. When producing the Bomence panniers, Ina pays particular attention to sustainable production in China and uses high-quality recyclable materials.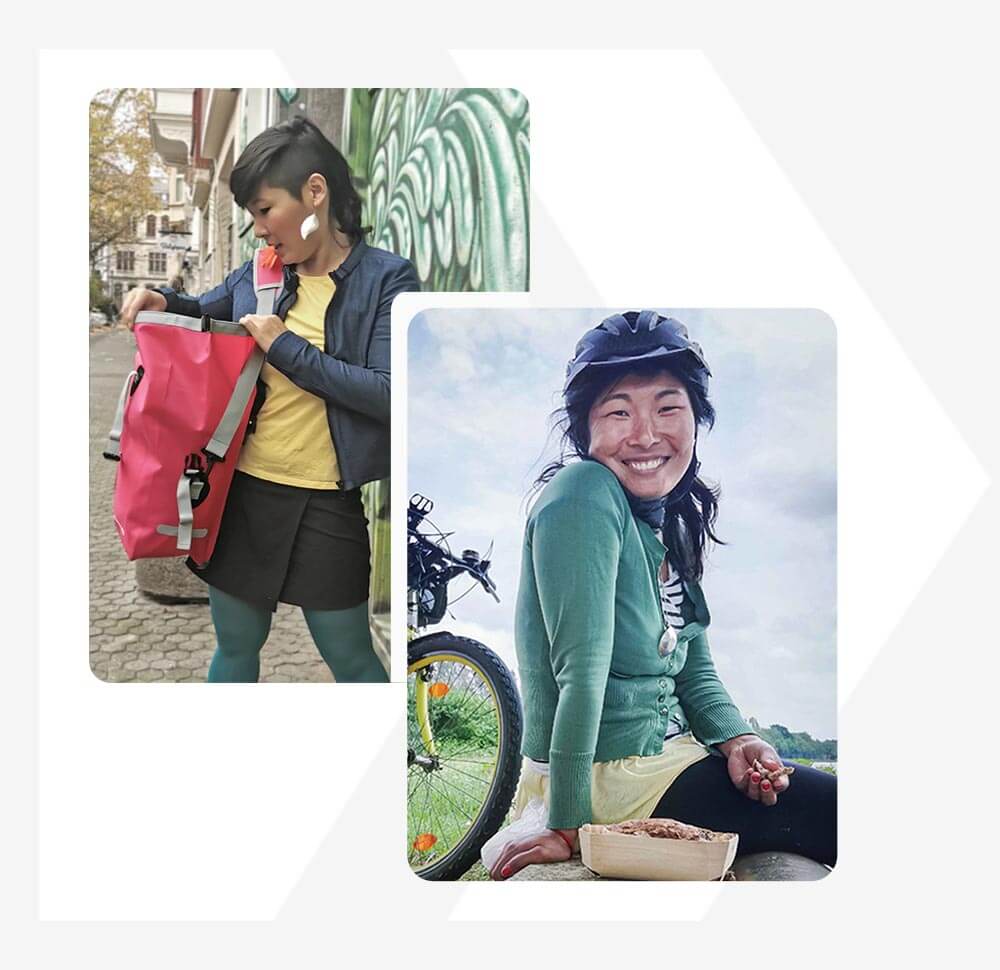 Begeisterte Kundenstimmen