Bicycle pannier bag for rear rack waterproof - blue
Normal price
$77.00 USD
Selling price
$64.00 USD
Basic price
Per
Sale
Sold out
Our waterproof bike bag for the rear rack is a true miracle of storage space! The sustainable pannier bag for your bicycle has an environmentally friendly, non-toxic inner coating. With a volume of 25 liters there is space for everything you need.


Our bicycle bag for the rear rack Waterproof is a true storage room wonder!!
With a volume of 25 liters there is all space that you need for everyday life or the work. By using high quality and waterproof fabrics, you can drive through the rain without your important stuff wet.
The timeless unisex design definitely fits you and your e-bike, service bike or jog. Now for a short time also in the colors pinkanddark greenavailable.
Bomence Adventurer (Blue)
The perfect
Waterproof bicycle bagFor leisure and work:
Material free of PVC and latex and other harmful plasticizers.

Absolutely "rainproof" by 100% waterproof materials.



Coating in the interior of food-safe TPU material (certified according to German food law)

Including shoulder strap, perfect as a carrier bag for shopping.

Perfect for work, leisure or outdoor experience.

Everything finds his place here: enormous volume of 25l with rolltop.

Safe stand on every surface, with particularly sturdy design.
You are looking for a waterproof bicycle bag for the luggage rack, in which everything fits for your profession or next adventure?
Our elegant bicycle bag in blue is perfect for urban bikers and outdoor lover. Finally a sustainable, stylish and functional bicycle bag for your luggage rack! Take care of the jam volume and, for example, take your 19 inch laptop comfortably. Quickly removed, you can simply take the whole bag in the office.
As a waterproof luggage carrier bag for your e-bike or for your next adventure through the forest, with this blue bicycle bag as your companion you can concentrate on driving.
Sustainable and shopping with pure conscience.
Our bicycle bag was made from food-free materials and can be used for shopping. The inner coating made of waterproof TPU is according to German food code (LFGB) certified. The waterproof luggage carrier bag has no smell and is sustainable.In harmful plasticizers was 100% waived so that you can use the bicycle bag waterproof without concerns for the luggage rack.
Start full now and take everything you need at work or on your bike ride. At the same time, have the certainty that your stuff is always well protected.
So you attend lightness for your upcoming ways!
Order your Bomence Bicycle Bag now and enjoy your coming ways to work.
Our 100% customer satisfaction is completely serious!
Bomence is a German brand with sustainable production in China. We are the quality of our products at heart. If you should be dissatisfied with the product or should a little break, we offer you to return the product within 30 days and you will receive the money back.
Also as a great gift for a loved one! If you are looking for a gift idea, then you are exactly right here. Because whether as a birthday present or as a Christmas present, hereby you make a great pleasure for a special person.
Here it goes to the green and pinkBicycle bags for luggage rack waterproof.
The blue bicycle bag fits on Narrow luggage rack with a diameter of up to 13mm.The green and pink waterproof bicycle bag may include a 18mm diameter luggage rack.
Have fun cycling and of course shopping!
The shipping of bicycle bags within Germany is free.
When buying outside the EU, customs costs or import sales tax may apply to the buyer. The goods are shipped from Germany.
Show full details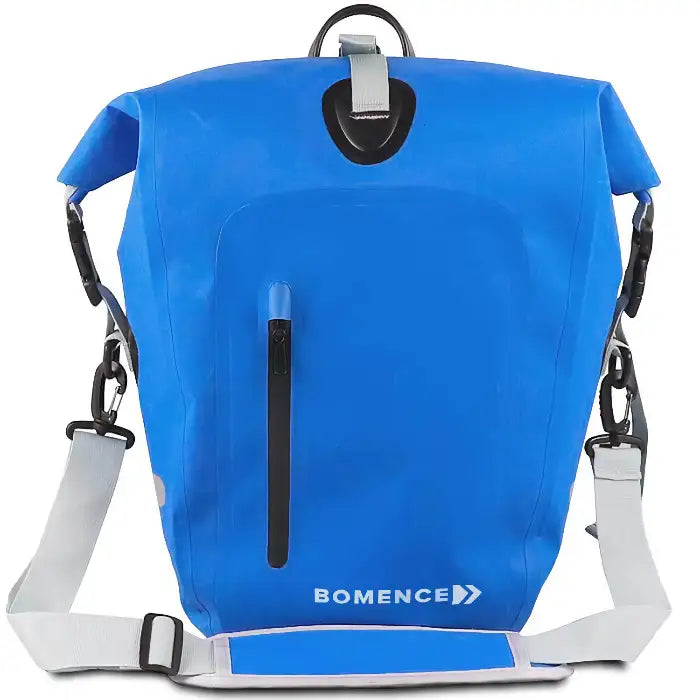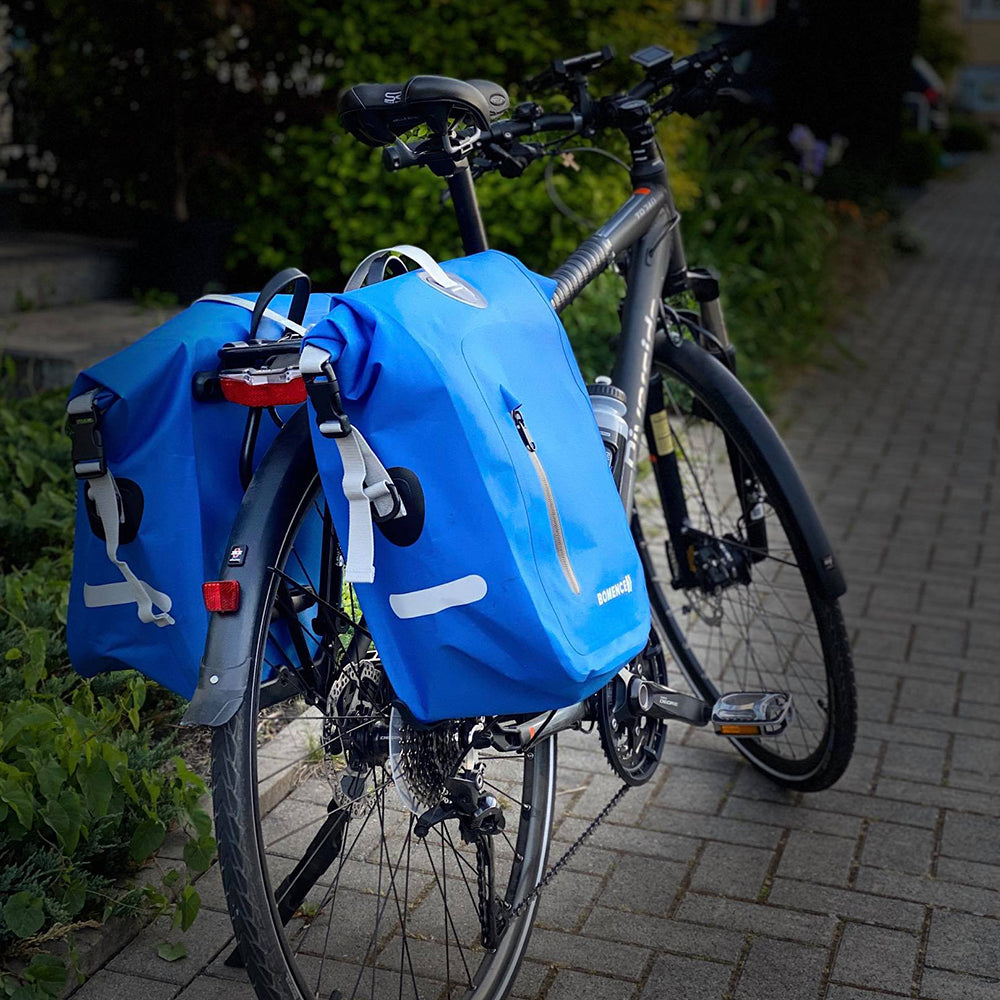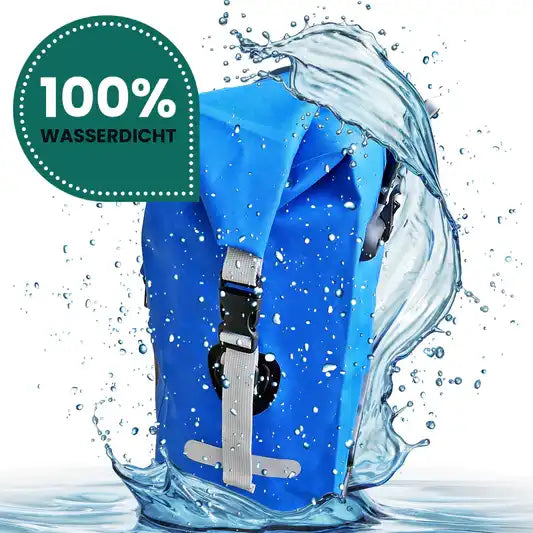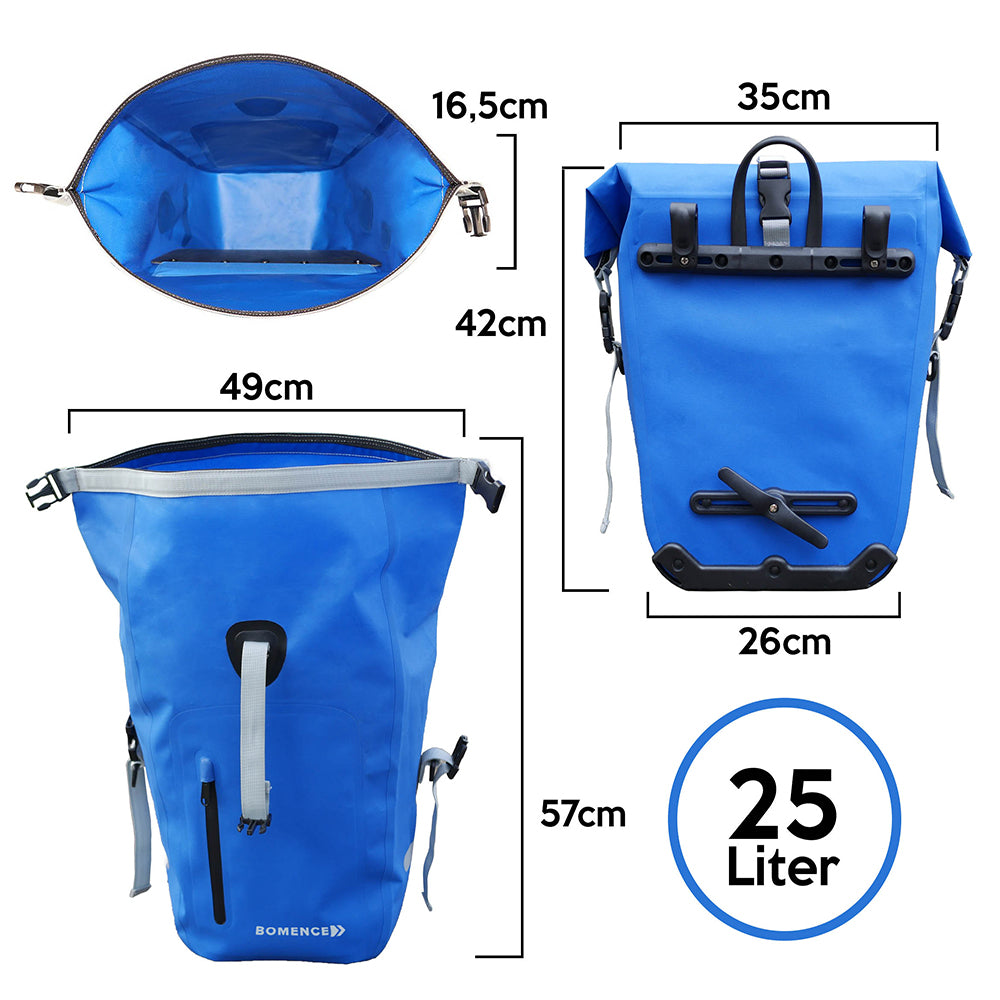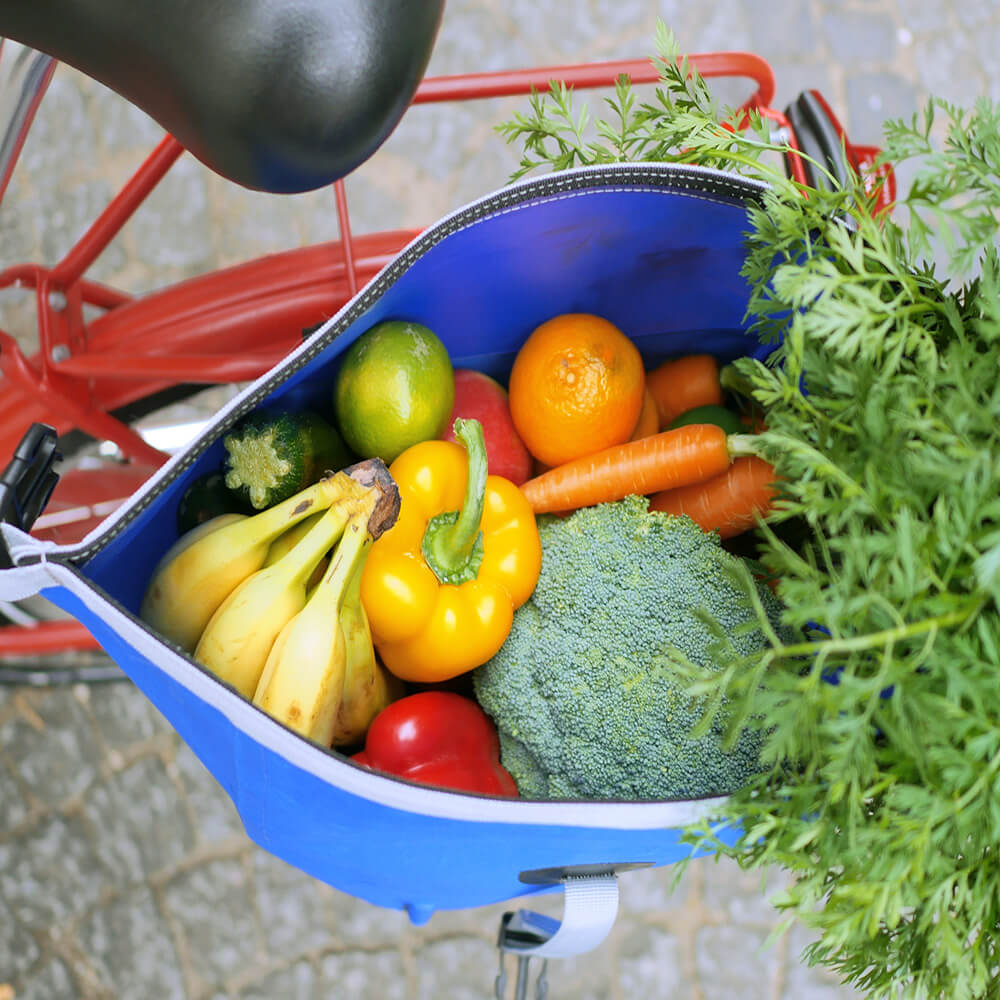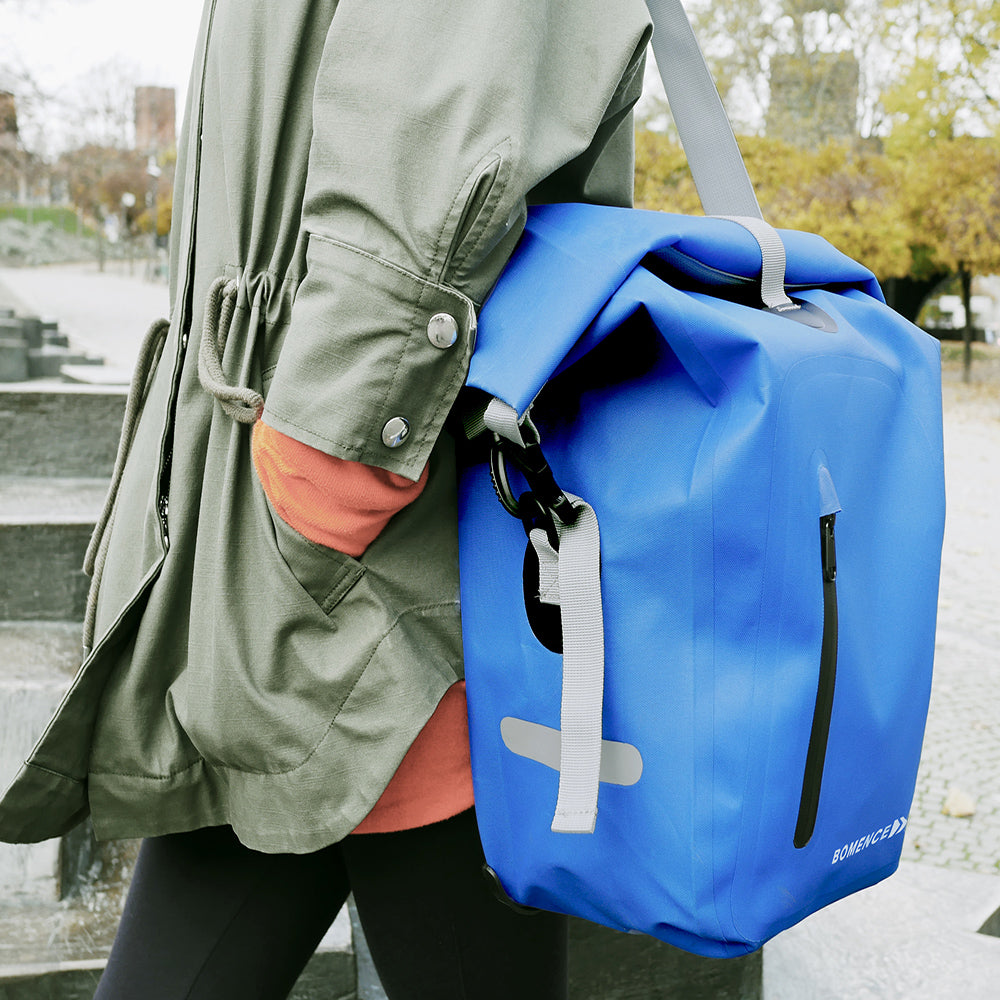 Free Shipping

100% Premium Quality

30 days return policy

Secure payment
Here's why you'll Love This
100% waterproof
The solid bag material protects all valuables 100% from moisture and wind. You can trust that all items will stay dry even in heavy rain.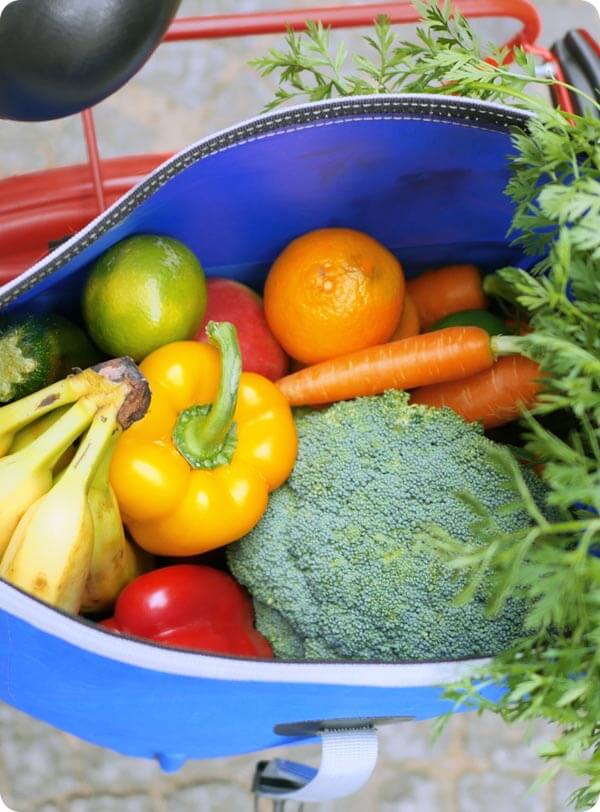 Food Safety
The TPU inner coating of the textile material of the bike bags is certified food safe according to German LFGB law. You can transport your purchases in it without hesitation.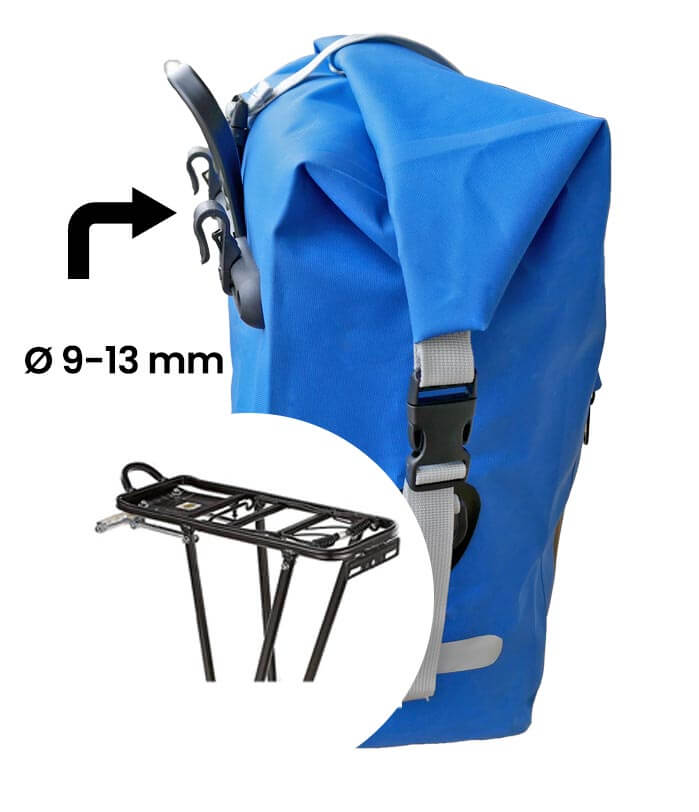 Safe Hold
This blue pannier has a hook attachment system. The pannier bag is attached to the tube (diameter 9 - 13 mm) with just one movement.
A bicycle pannier bag you don't want to miss!
Dimensions of the bike bag
With a capacity of 25 litres (7 gallons), this pannier bag is a real miracle of space. When closed, it is 35 cm (14 inches) wide, 42 cm (16,5 inches) high and 16.5 cm (6,5 inches) deep. When open, it is 49 cm (19 inches) wide at the top and 26 cm (10,2 inches) at the bottom, 57 cm (22,4 inches) high and 16.5 cm (6,5 inches) deep.
The fastening system
The saddlebag for the rear wheel is horizontally adjustable on the bike mount. It can be mounted quickly and without tools on all luggage racks with a diameter of up to 18mm (blue pannier up to 13mm). Instead of rivets, the pink pannier uses screws to secure the brackets, so that the longevity of the bag is guaranteed.
Day and night visibility
Not only the bright colors, but also the reflectors on the sides ensure more safety on dark and bright days. The pink Bomence bicycle bag is not only an eye-catcher, but also extremely functional and practical.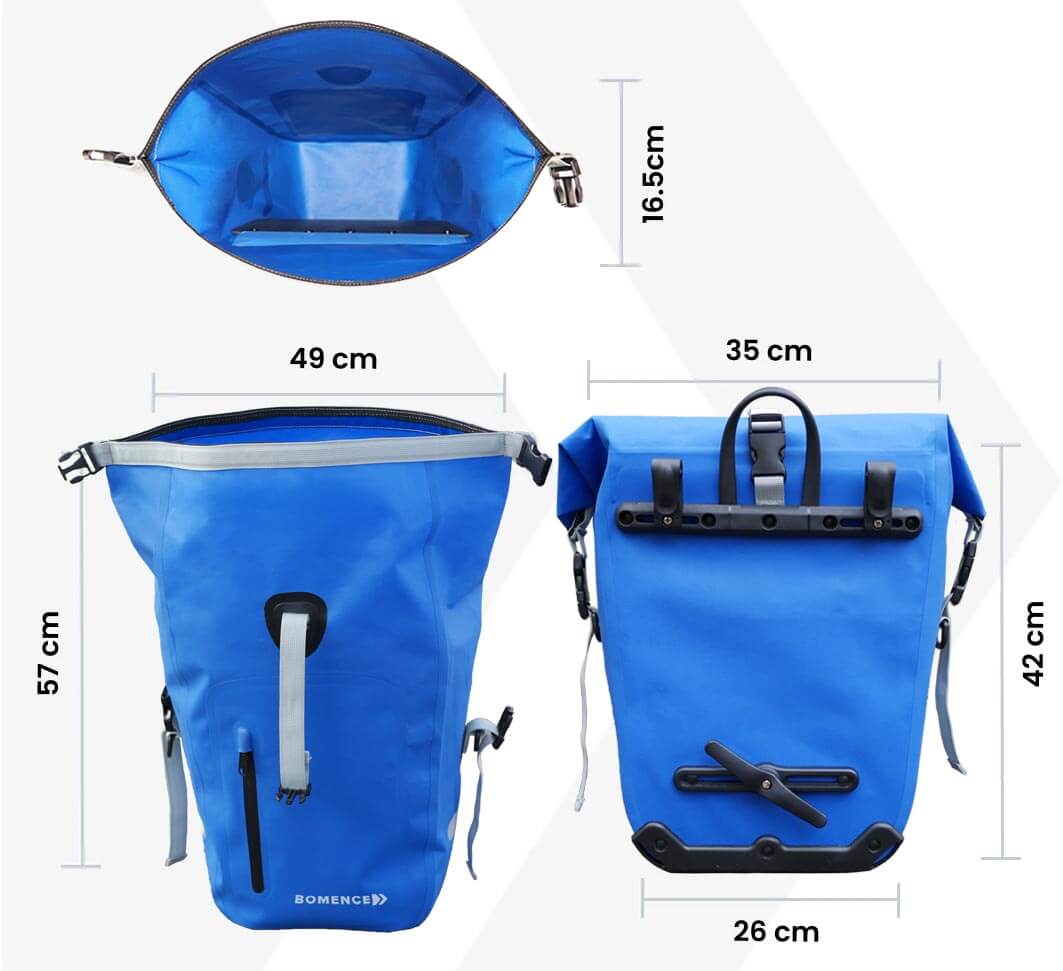 Begeisterte Kundenstimmen