Green bicycle bag waterproof - Individualist
Normal price
$88.00 USD
Selling price
$74.00 USD
Basic price
Per
Sale
Sold out
Our waterproof bike bag for the rear rack is a true miracle of storage space! The sustainable pannier bag for your bicycle has an environmentally friendly, non-toxic inner coating. With a volume of 25 liters there is space for everything you need.
Green bicycle bag waterproof
With this rustic green saddlebag you will meet the vintage industrial look. The crease character of the bag gives you memories of beautiful moments of freedom. As an ingenious companion, she provides more flexibility. With the Quick-Lock, the biking bag is mounted with a handle.

All Bomence Bicycle Bags are coated with food-safe TPU and 100% waterproof.
Bomence Individualist (green):
Material free of PVC and latex and other harmful plasticizers.

Absolutely "rainproof" by 100% waterproof materials.

Coating in the interior of food-safe TPU material (certified according to German food law)

Including shoulder strap, perfect as a carrier bag for shopping.

Perfect for work, leisure or outdoor experience.

Everything finds his place here: enormous volume of 25l with rolltop.

Safe stand on every surface, with particularly stable design
This bicycle bag is green as well as in blue and pink available.
Sustainable and shopping with pure conscience.
Our bicycle bag was made from food-free materials and can be used for shopping. The inner coating made of waterproof TPU is according to German food code (LFGB) certified. The waterproof luggage carrier bag has no smell and is sustainable.In harmful plasticizers was 100% waived so that you can use the bicycle bag waterproof without concerns for the luggage rack.
Start full now and take everything you need at work or on your bike ride. At the same time, have the certainty that your stuff is always well protected.
So you attend lightness for your upcoming ways!
Order your Bomence Bicycle Bag now and enjoy your coming ways to work.
(Picture of Sarah: This is Liverpool Blog)
With us 100% customer satisfaction is meant seriously!Bomence is a German brand with sustainable production in China. We are the quality of the product at heart. If you have to be dissatisfied with the product or something broken, we offer to give the product back within 30 days and you will receive the money reimbursed.
Also as a great gift for the girlfriend or friend! If you are looking for a gift idea, then you are exactly right here. Because whether as a birthday present or as a Christmas gift, which allows you to do your friends joy Give for your upcoming ways!
The green and pink waterproof bicycle bag can Carrier with a diameter of 18mm cover. The green bicycle bag fits on Narrow luggage rack with a diameter of up to 13mm.
Have fun cycling and of course shopping!
The shipping of bicycle bags within Germany is free.
When buying outside the EU, customs costs or import sales tax may apply to the buyer. The goods are shipped from Germany.
Show full details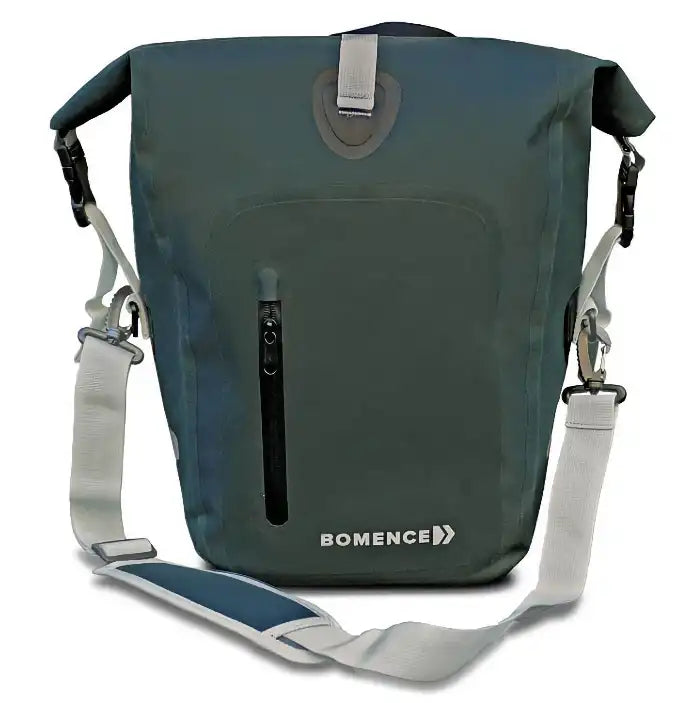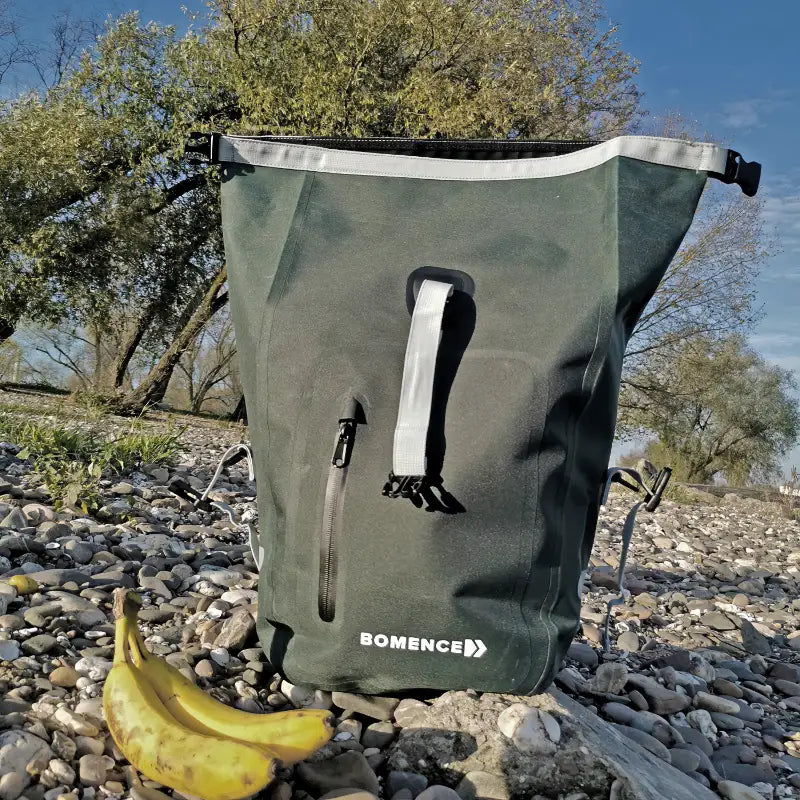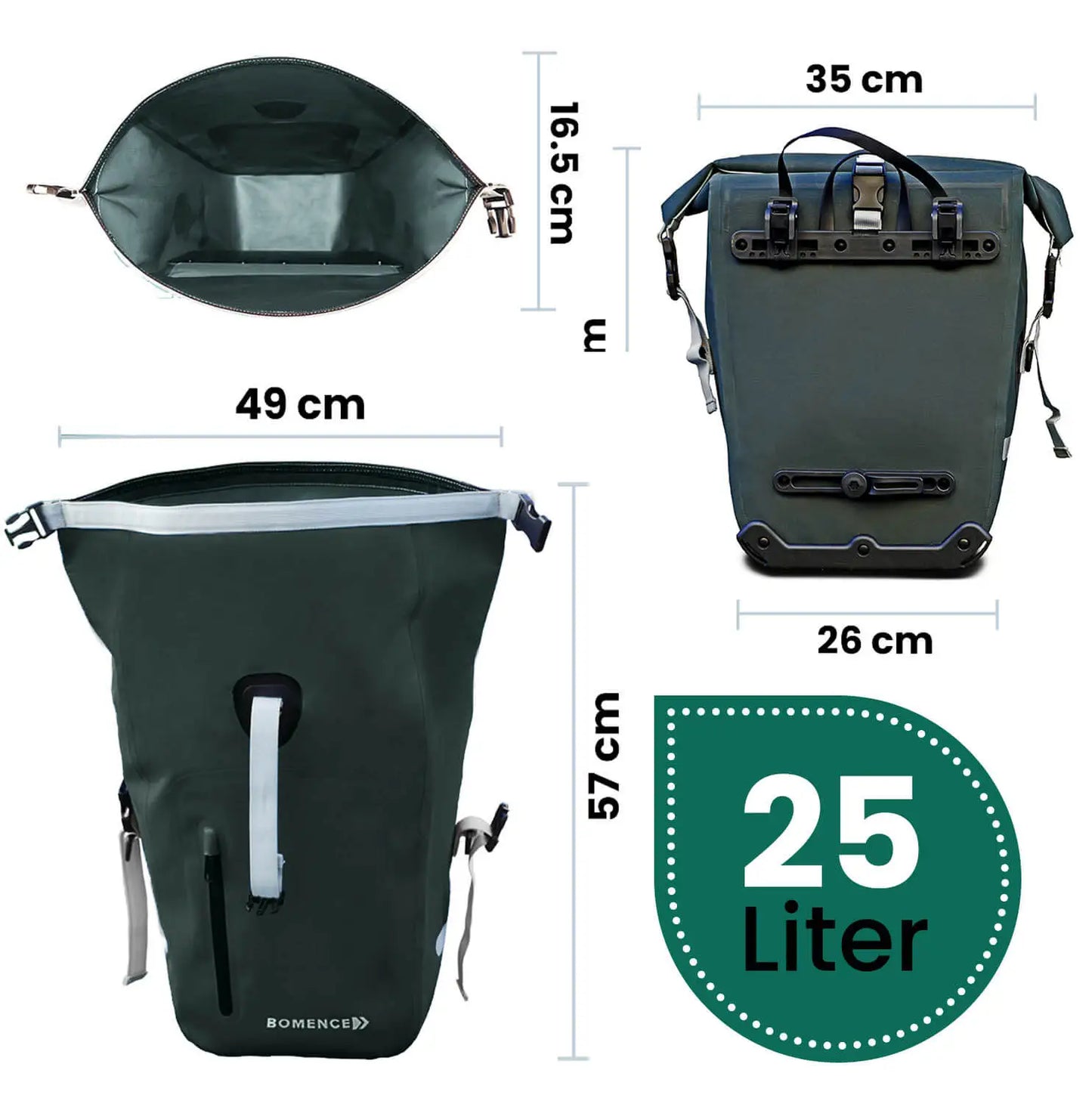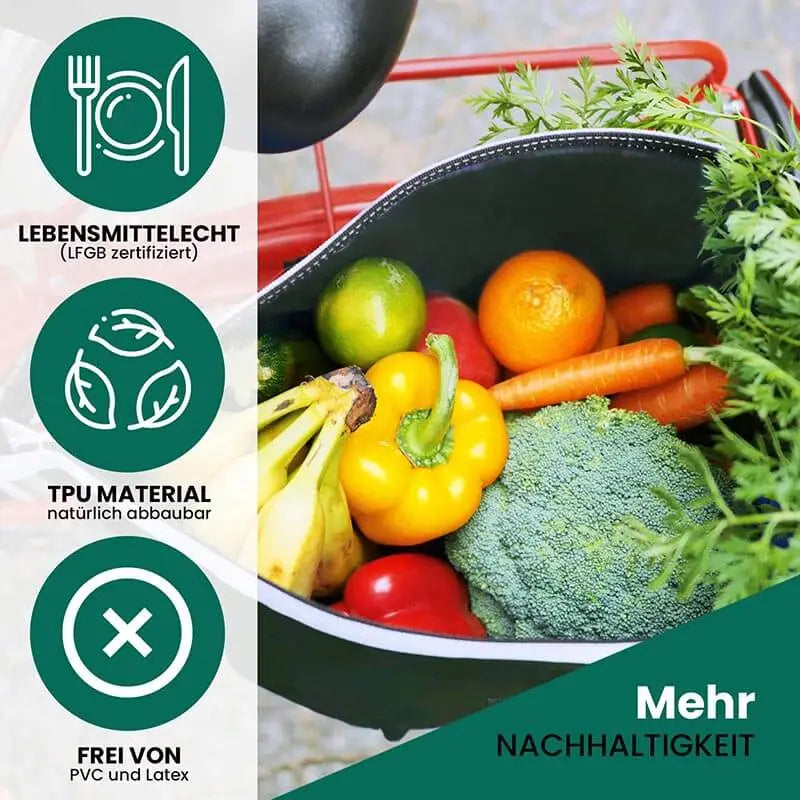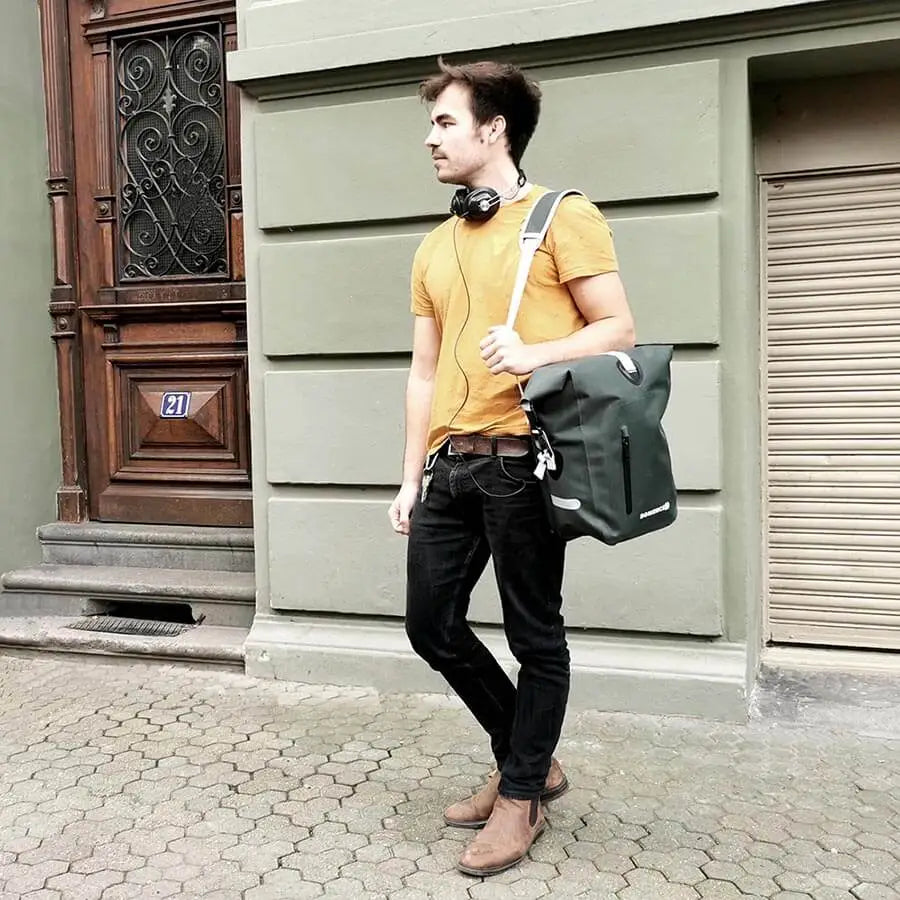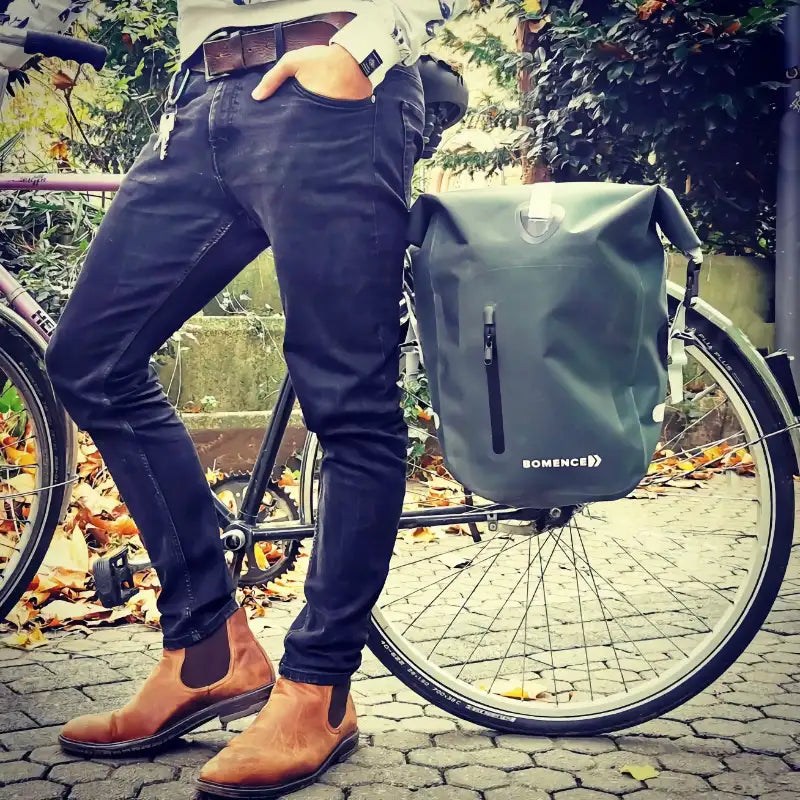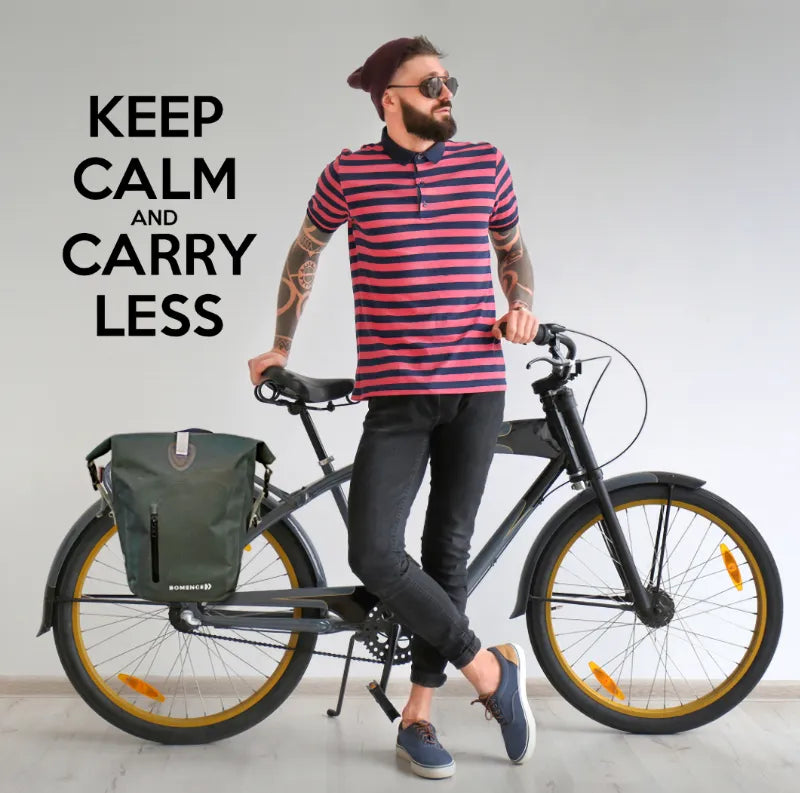 Free Shipping

100% Premium Quality

30 days return policy

Secure payment
Here's why you'll Love This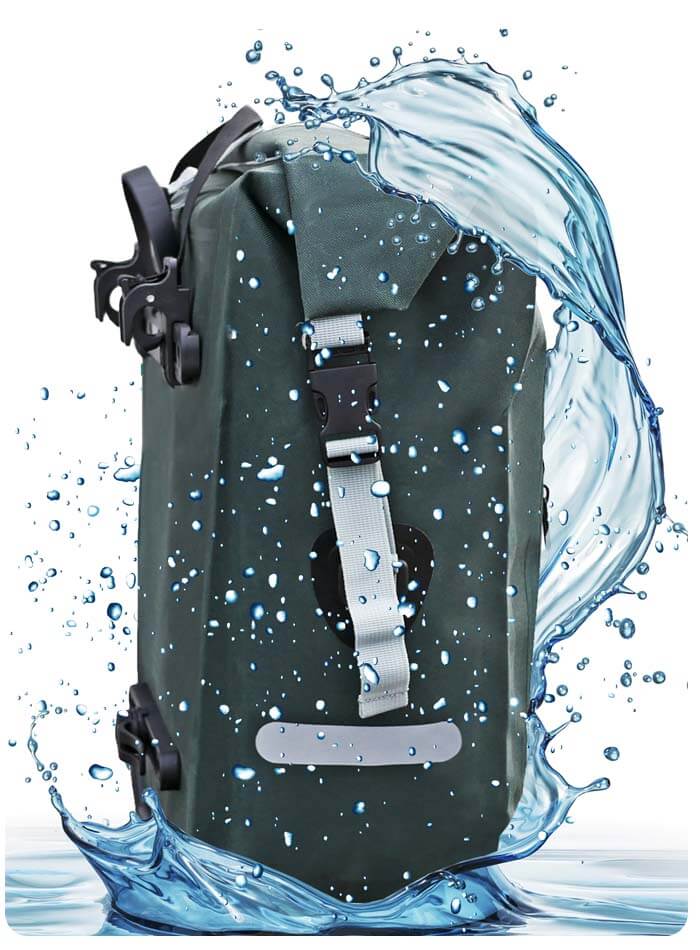 100% waterproof
The solid bag material protects all valuables 100% from moisture and wind. You can trust that all items will stay dry even in heavy rain.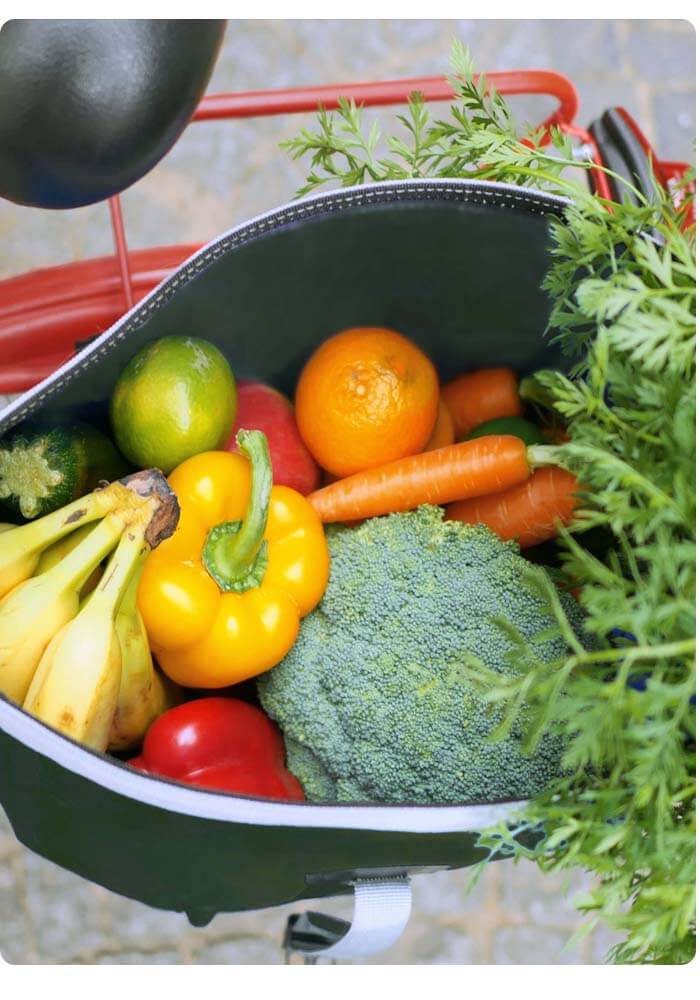 Food Safety
The TPU inner coating of the textile material of the bike bags is certified food safe according to German LFGB law. You can transport your purchases in it without hesitation.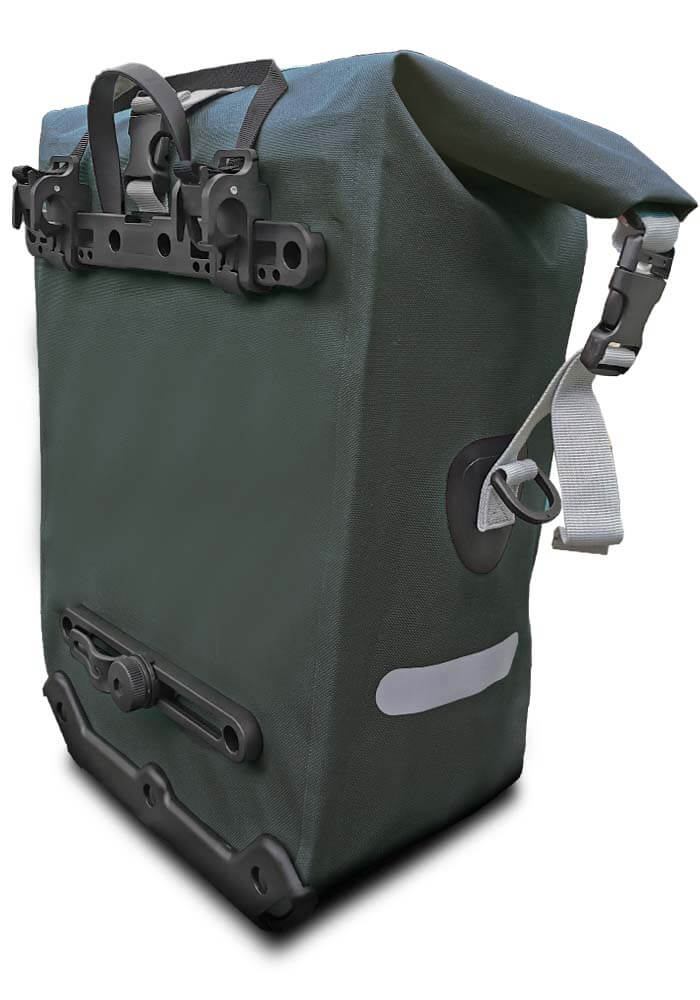 Hold Safely
This pink bike bag has a Quick-Lock mounting system. With just one move, the bike rack (diameter 8 - 18 mm) is firmly enclosed. At the bottom, the adjustable clamp provides additional support.
Are you looking for a chic bike bag for your job or your next adventure?
We have the perfect bike bag for you! Our stylish pink bike bag is designed for both urban cyclists and outdoor lovers. A sustainable, stylish and functional bike bag for women! Customize the storage volume by yourself and take, for example, your 19 inch laptop with you comfortably. Quickly removed, you can also take the whole bike bag easily to the office.
With this reliable bike bag, you can concentrate fully on your way forward. Order now and ride soon!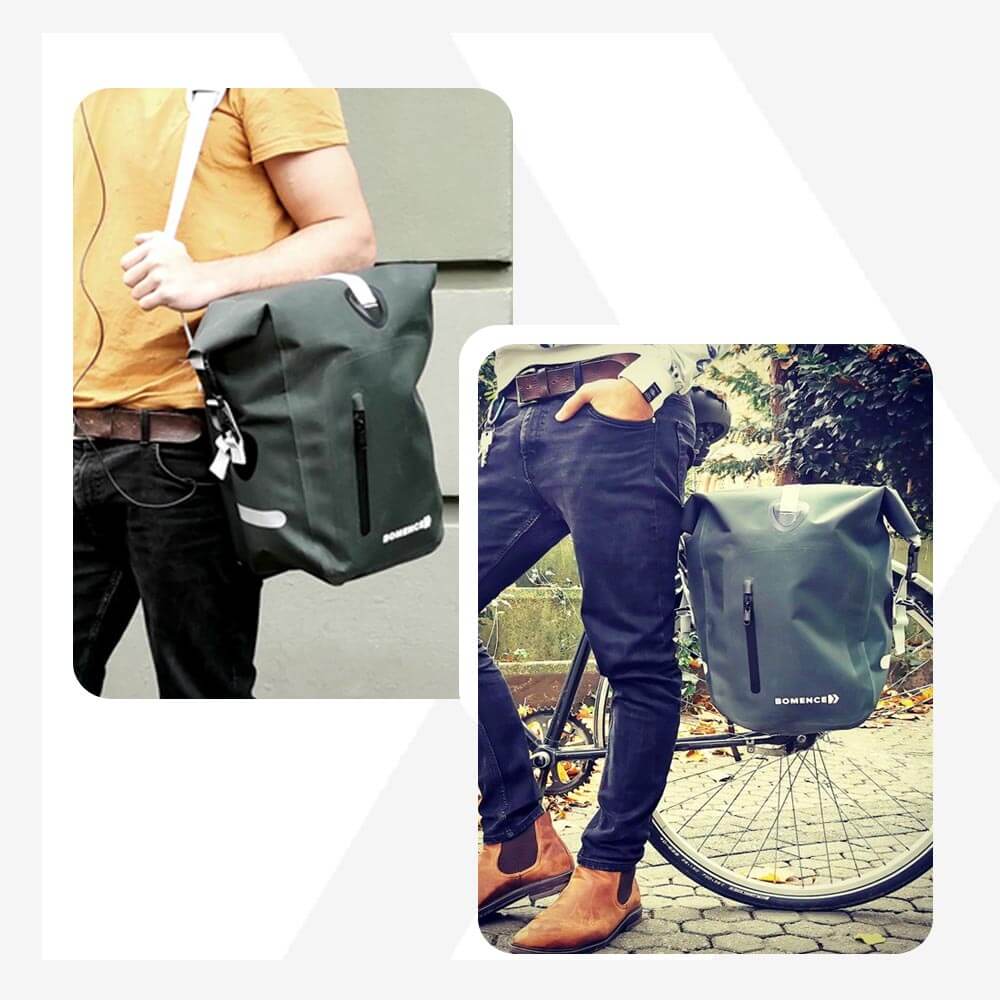 Stay dry & ride safely
If you're a daily cyclist on the road, then you know how important it is to transport your belongings safely and comfortably around town.
This high-quality pannier bag protects your valuables 100% from the rain and stows it safely and dry in the bike bag. With a bright color you not only make yourself clearly visible in traffic, but the side reflectors also offer you protection from approaching motorists at night.
With Bomence bicycle bags you can ride your bike more safely and relaxed.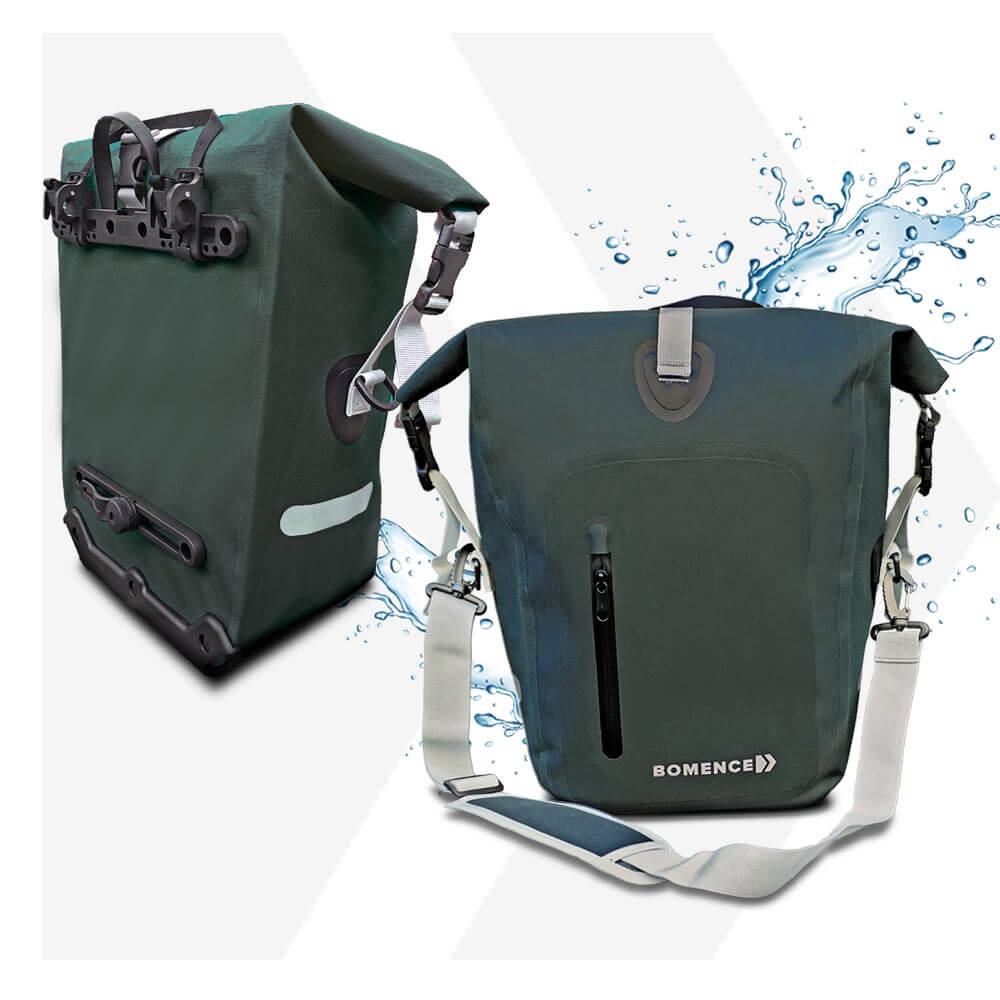 Sustainable and beautiful cycling
Our bike bag is made of food safe materials and can be used by you for shopping. The inner coating of waterproof TPU is certified according to the German Food Code (LFGB). The Bomence bike bag has no unpleasant smell and is sustainable to use. Harmful plasticizers have been eliminated 100%, so you can also use the bike bag as a shopper for fresh fruit and vegetables.

Get started now and take everything you need with you in your chic bike bag. This makes every bike ride fun!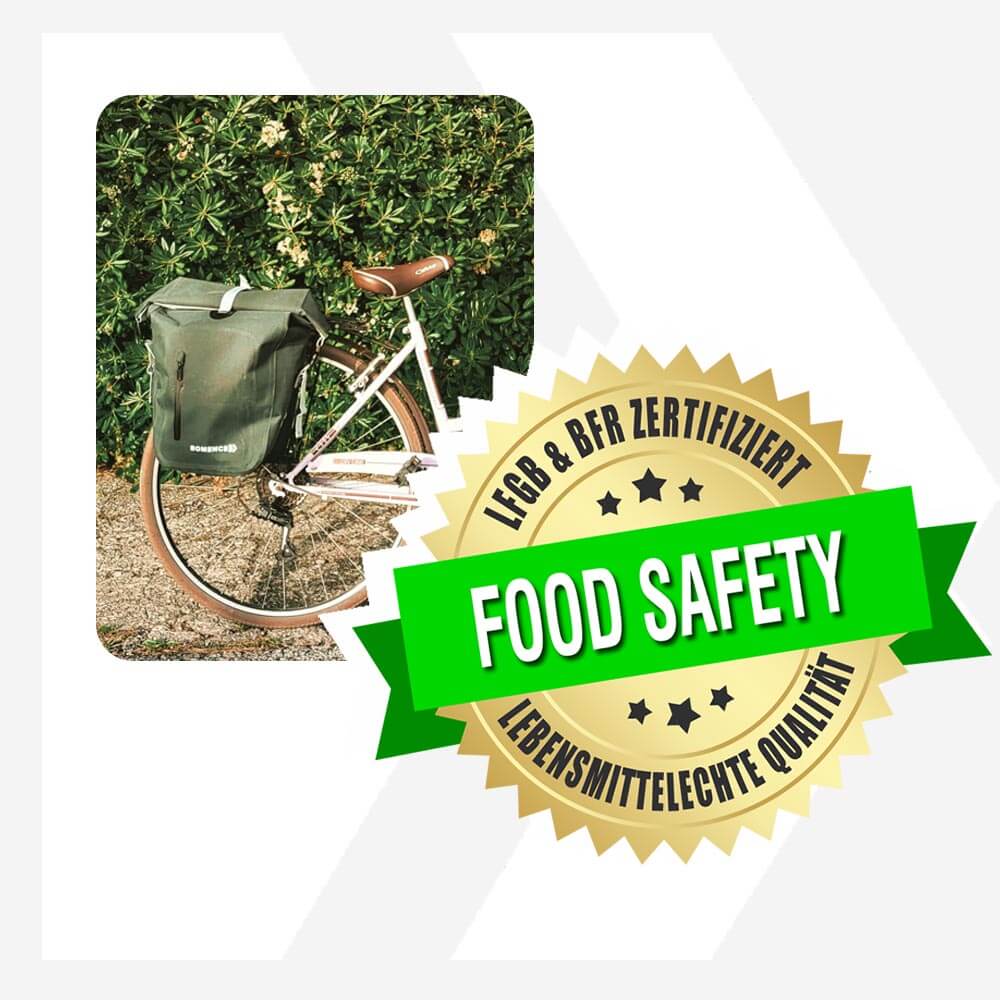 A bicycle pannier bag you don't want to miss!
Dimensions of the bike bag
With a capacity of 25 litres (7 gallons), this pannier bag is a real miracle of space. When closed, it is 35 cm (14 inches) wide, 42 cm (16,5 inches) high and 16.5 cm (6,5 inches) deep. When open, it is 49 cm (19 inches) wide at the top and 26 cm (10,2 inches) at the bottom, 57 cm (22,4 inches) high and 16.5 cm (6,5 inches) deep.
The fastening system
The saddlebag for the rear wheel is horizontally adjustable on the bike mount. It can be mounted quickly and without tools on all luggage racks with a diameter of up to 18mm (blue pannier up to 13mm). Instead of rivets, the pink pannier uses screws to secure the brackets, so that the longevity of the bag is guaranteed.
Day and night visibility
Not only the bright colors, but also the reflectors on the sides ensure more safety on dark and bright days. The pink Bomence bicycle bag is not only an eye-catcher, but also extremely functional and practical.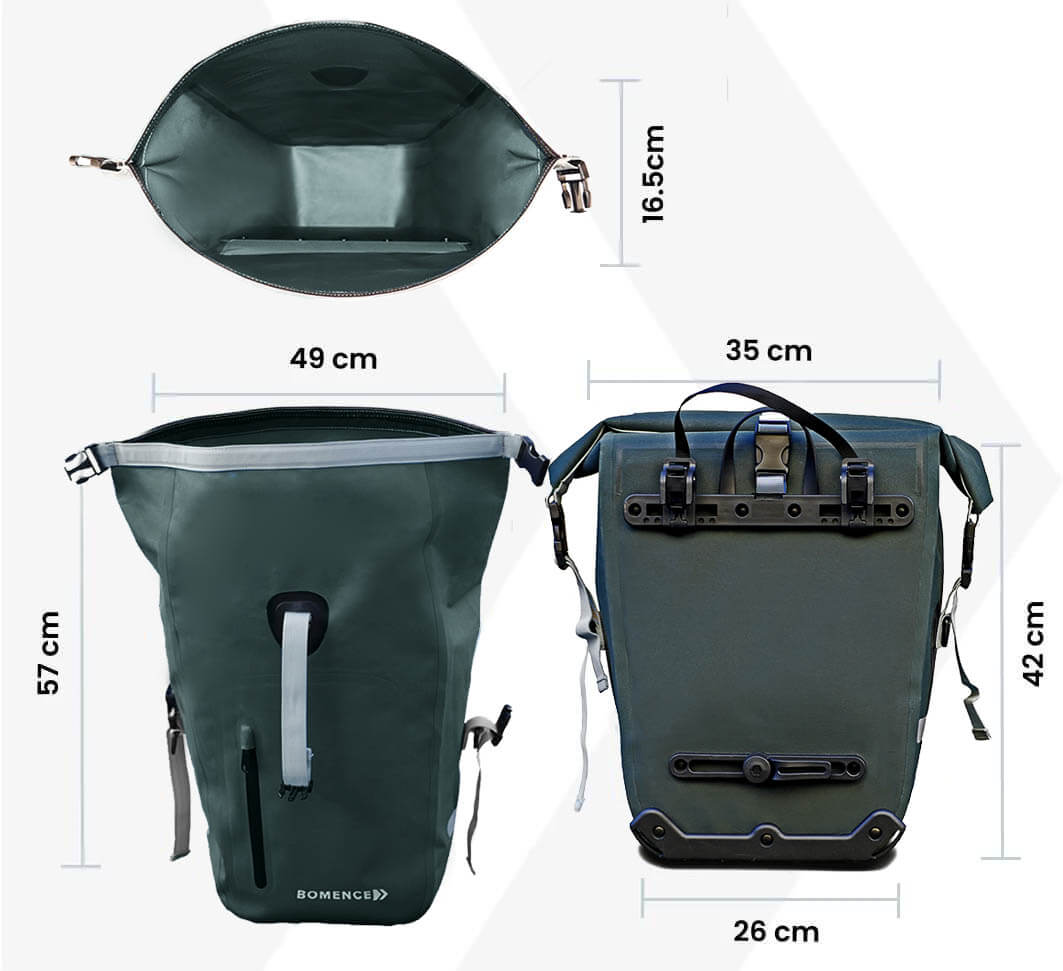 Support a pioneering startup with passion
Who is behind Bomence? In 2019, Suyina Solonggod founded the Cologne-based company Health and Outdoor Equipment with sustainable production in China.
The entrepreneur and mother of three in Cologne created Bomence with a great desire to discover aha moments and thus new paths to happiness . She attaches great importance to exercise and radiates joie de vivre. Cycling with and without children is her first choice for getting around town. With bright colors and reflective panniers, she makes a statement for cyclists to be more visible in traffic.
This is how we create a more considerate, healthier and more sustainable society together. When producing the Bomence panniers, Ina pays particular attention to sustainable production in China and uses high-quality recyclable materials.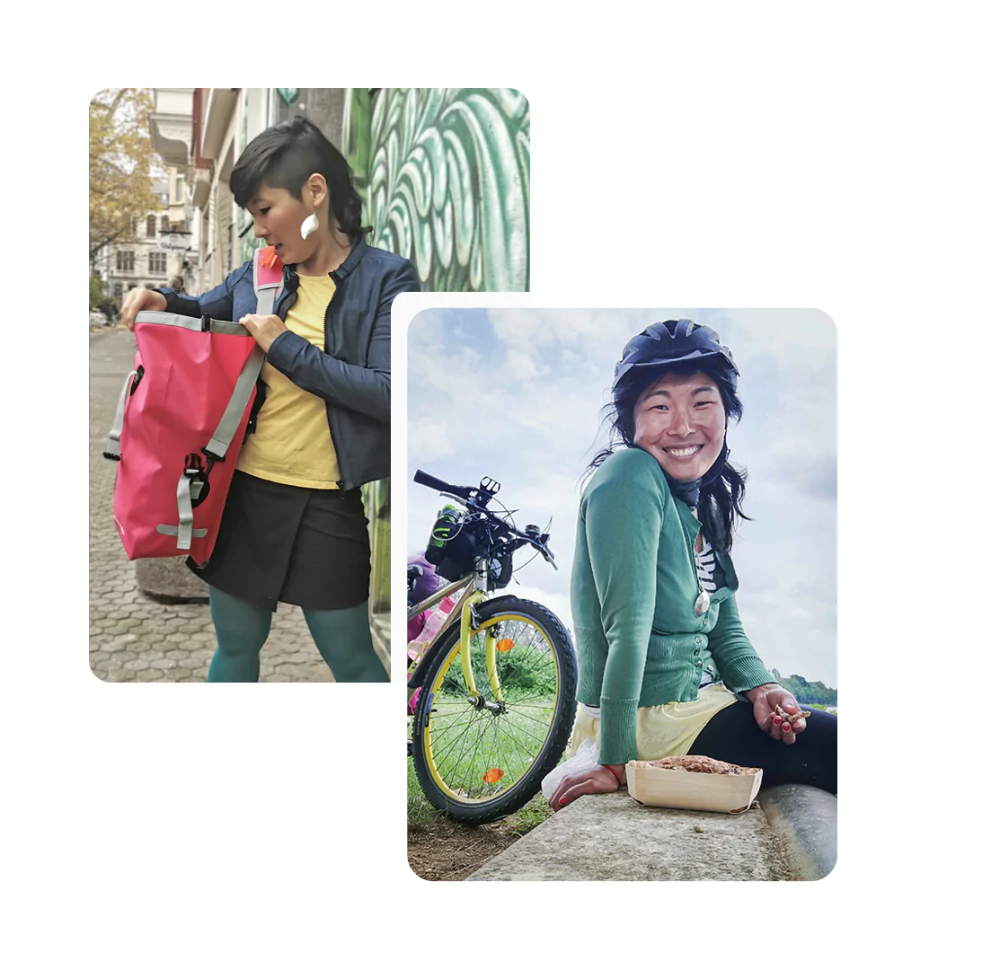 Begeisterte Kundenstimmen